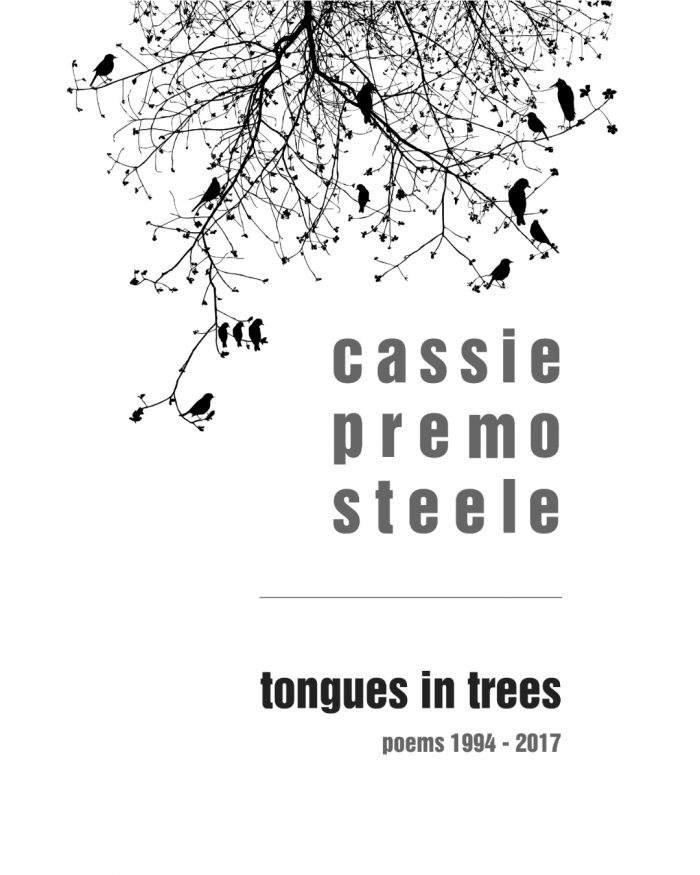 Cassie Premo Steele
Do you have an MP3 of you reading a poem? Send it along.
Yes, thank you! This is a new poem called "Dear Audre, Mother."
Here's the link to the audio:
Your Chapbook or Book Title, Press, Where available for sale.
My most recent poetry book is Tongues in Trees: poems 1994-2017.
The link for the Kindle edition at Amazon.
The link for the paperback is Amazon.
And the link to a description on my website is
https://www.cassiepremosteele.com/tongues-in-trees.html
What inspired you to write this Chapbook/Book? What else should we know about it? Or just add the Blurb.
Tongues in Trees is about revolution, both personal and political, and this collection shows the long arc of poetic ferocity that has often been overshadowed by the more nurturing contours of Cassie Premo Steele's writing.

This new volume contains all her previously published poems from journals and anthologies since 1994, plus brand new poems.
​
Consciously responding to this historical moment in which we are being asked to stand up and #resist and make our voices heard, these poems are fiercely allied with intersectional feminist and environmental movements.
What was your journey to publication like?
I started thinking about the poems that I'd published in journals and anthologies over the years, and in conversation with my poetry publisher, Annmarie Lockhart at Unbound Content, we decided to release a collection of these poems plus new ones that address the current political situation.
Here's a new poem from the collection that illustrates what I mean.
Politics
 This isn't new politics
 like poetry it
 takes the very old
 and sits her down
 at the kitchen table
 with a cup of coffee
 maybe it is night
 and babies are sleeping
 after a day that
 wouldn't quit
 maybe it is before dawn
 and someone is gone
 never to come back
 maybe it is cloudy
 and a small lamp
 lends light to her hands
 maybe it is sunny
 and birds at the feeder
 give them something
 to look at when words
 are slow in this
 conversation between women
 and when you refill the coffee
 you don't need to be a leader
 when you drink you don't
 need to follow
 because each body
 is equal in the swallow
 and we take turns serving
 and being served
 and this is the essence
 of this politics nothing
 is fixed and when
 it's time we all get up
 to do the dishes.
        -from Tongues in Trees by Cassie Premo Steele
Any upcoming Chapbook/Book releases? Upcoming poems in magazines?
I was very happy to have my poem, "I Want to Praise Myself," included in the Fall 2020 issue of Gyroscope Review.
Here is a list of my most recent poetry publications:
https://www.cassiepremosteele.com/2020-21-publications.html
Your Website and Social Media Links.
https://www.cassiepremosteele.com/
https://twitter.com/PremoSteele
Any poets or books that inspired your writing?
Audre Lorde has always been and still is my poet mother. That's why I chose to share this recording of my poem addressed to her.
Who are you currently reading?
The Overstory, a novel by Richard Powers. It's poetry in narrative form – about trees!
Pay it Forward – Promote your favorite Charity, tell us why you love it, add a link.
As a poet who lives in the south, I think what's been happening in Texas – with climate change, immigration, infrastructure problems – is indicative of the kinds of issues that we need to address nationally with innovation and deep healing.
Raices is an organization that does this in tangible and human ways.
Cassie Premo Steele is a lesbian, ecofeminist, mother, poet, novelist, and essayist whose writing focuses on the themes of trauma, healing, creativity, mindfulness and the environment. She holds a Ph.D. in Comparative Literature and Women's, Gender and Sexuality Studies from Emory University in Atlanta, Georgia, and she has published 16 books, including 6 books of poetry, and her poetry has been nominated 6 times for the Pushcart Prize. She is a recipient of The Archibald Rutledge Prize and The John Edward Johnson Prize, as well as the Carrie McCray Literary Award for Poetry, and she was a Finalist for the Rita Dove Poetry Award judged by the current US Poet Laureate Joy Harjo. She lives in South Carolina with her wife, dog and 3 chickens.
Past Interviews
April 1 – Alison Stone
April 2 – Jessica Barksdale Inclan
April 3 – Maureen Sherbondy
April 4 – William Rector
April 5 – Carolyn Martin
April 6 – Lucy Griffith
April 7 – Better Than Starbucks
April 8 – Marjorie Becker
April 9 – Karen Arnold
April 10 – Sheree La Puma
April 11 – Sherry Rind
April 12 – Gloria Heffernan
April 13 – Kristian Macaron
April 14 – Martin Willits Jr.
April 15- George Longenecker
April 16 – Tresha Faye Haefner
April 17 – L.Shapley Bassen
April 18 – Dotty LeMieux
April 19 – Sharon Fagan McDermott
April 20 – Steven Croft
April 21 – Cathleen Calbert
April 22 – Cathryn Shea
April 23 – Bartholomew Barker
April 24 – Stripes Magazine
April 25 – Ken Cathers
April 26 – Linda Neal
April 27 – David B. Prather
April 28 – Matthew Babcock
April 29 – Daniel Edward Moore
April 30 Cassie Premo Steele