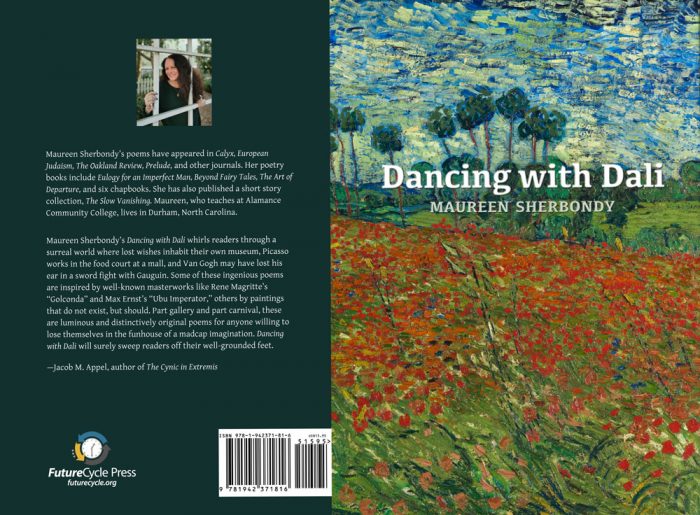 Maureen Sherbondy
Your Chapbook or Book Title, Press, Where available for sale.
Dancing with Dali (FutureCycle Press) Available at FutureCycle Press website and also on Amazon.
What inspired you to write this Chapbook/Book? What else should we know about it? Or just add the Blurb.
I have always been inspired by art. When I went to Paris on my honeymoon (2017), I visited the Dali museum, the Picasso museum, and Musee de Orsay. I began to write ekphrastic poems over a summer. When I finished, I had enough for a collection.
What was your journey to publication like?
I revised the poems, then played with the order. The book was sent to six publishers. One of them accepted it. The press was fabulous to work with. I had both my first YA novel and the poetry book released the same year (during the pandemic!)—that was the challenging part.
Any upcoming Chapbook/Book releases? Upcoming poems in magazines?
I have another full-length book coming out with Unsolicited Press in 2022. The book is called Lines in Opposition. Two NC Poets Laureate have blurbed the book.
Your Website and Social Media Links.
Any poets or books that inspired your writing?
I love so many poets: Bly, Bishop, Eliot, Goldbarth, Ashbery…
I read as many journals and books as I can. I am inspired by novels, poetry books, and eavesdropping on conversations.
Who are you currently reading?
Ashbery, Bly, (Nick) Lantz, (Russell) Edson…I have piles of books by my bed.
Pay it Forward – Promote your favorite Charity, tell us why you love it, add a link.
Any charity that promotes literacy.
Past Interviews
April 1 – Alison Stone
April 2 – Jessica Barksdale Inclan
The Spring 2021 Issue is now Available!
Please visit Print and Kindle Issues Available Through Amazon to purchase paperback or Kindle versions.