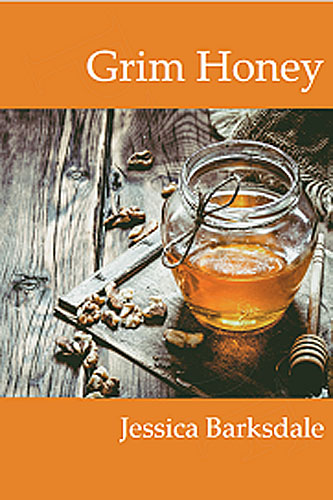 Jessica Barksdale Inclan
Do you have an MP3 of you reading a poem? Send it along.
Poem – "This is it"
Your Chapbook or Book Title, Press, Where available for sale.
Grim Honey, Sheila-Na-Gig
What inspired you to write this Chapbook/Book? What else should we know about it? Or just add the Blurb.
The hardest sweet is sharp to the tongue, painful, cutting, and often divine. The poems in Jessica Barksdale's collection Grim Honey follow thin paths of grief, up through steep switchbacks and down the rocky declines into the meadows, where for a moment, we can pause and remember before moving on. The speakers in these poems open to their sorrows and passions and then push forward into stories that—while understood—are still evolving. Barksdale moves through issues of family, love, and death, delving into what is beautiful as completely as what is not to show the fullness of life.
What was your journey to publication like?
I put together this collection during a flurry of poetry writing during the lockdown. I was participating in a poetry round robin as well as an online poetry workshop, and the poems kept emerging. I submitted the manuscript to Sheila-Na-Gig's annual contest and won, which was thrilling. Haley Haugen, the publisher, has been fantastic. She is open to suggestions and also smart enough to say no when necessary.
Any upcoming Chapbook/Book releases? Upcoming poems in magazines?
Three of the poems in this collection are coming out in Electric Literature's The Commuter, Ruminate, Tule Review, and the Tar River Poetry. My fifteenth novel, The Play's the Thing, is forthcoming in May from TouchPoint Press.
Your Website and Social Media Links.
www.jessicabarksdaleinclan.com
@jessicainclan Twitter
@jessicainclan Instagram
https://www.facebook.com/jessica.barksdale.inclan3
Any poets or books that inspired your writing?
Who are you currently reading?
Pay it Forward – Promote your favorite Charity, tell us why you love it, add a link.
Past Interviews
April 1 – Alison Stone
The Spring 2021 Issue is now Available!
Please visit Print and Kindle Issues Available Through Amazon to purchase paperback or Kindle versions.