Constance Brewer – Editor
Constance Brewer likes Tuxedo cats, Whiteline woodcuts, and Welsh Corgis most of all.  She reads widely on things like fantasy, mythology, science, and crafts. Her poetry can be found in Door is a Jar, Anti-Heroin Chic, Sheila-Na-Gig, Montana Mouthful, Rappahannock Review, Harpur Palate, Crafty Poet II: A Portable Workshop, The Nassau Review, and the New Poets of the American West Anthology among other places. She is the author of the book, Piccola Poesie: A Nibble of 100 Short Form Poems. Constance has an MFA from the University of Buffalo (NY), and is the recipient of a Wyoming Arts Council Fellowship Grant in poetry. A former US Army officer with the Corps of Engineers, she misses blowing things up for her country. You can find out more on her website, Life on the Periphery.
Her poetic influences include poets Dorianne Laux, Tracy K. Smith, W.S. Merwin, Nick Lantz, Carl Dennis, Rudy Francisco, Ocean Vuong, Naomi Shihab Nye, Marie Howe, and Charles Wright. Constance is a fan of free verse but does enjoy a well-rhymed form poem. As an editor, she prefers attention to detail and poetic craft. Poems that resonate, offer a new look on a common theme and show awareness of language will always get her attention. She loves poems that incorporate science and cosmology—both physical and religious. Don't forget to nail that ending!
Elya Braden – Assistant Editor
Elya Braden was born a poet, singer/actor and artist, but took an eighteen-year hiatus from her creative life so she could play "Let's Make A Deal" as a business lawyer and entrepreneur. She is now a writer and mixed-media artist living with her husband, the brilliant short story writer and artist, Jon Pearson, and their cat, CoCo, in Channel Islands Harbor, near Ventura, CA. Her work has been published in Calyx, Panoplyzine, Prometheus Dreaming, Rattle Poets Respond, Sheila-Na-Gig Online, The Coachella Review and elsewhere. Her poems have been nominated for a Pushcart Prize and have received several Best of the Net nominations. Her chapbook, Open The Fist, was released in 2020 by Finishing Line Press. You can find her online at www.elyabraden.com.
When she's not writing poems or to-do lists or pasting collages, Elya is usually reading: poems, politics, business news, or the Sunday funnies, or listening to literary fiction or personal development books on her Libby app. Her poetic influences and favorite poets include Ellen Bass, Eduardo Corral, Natalie Diaz, Mark Doty, Ada Limón, Adrienne Rich, Rumi, Rilke and Dean Young. She is drawn to poems that illuminate the ordinary, open windows to new worlds or excavate the past for emotional/psychological revelations, with vivid images and concise language.
Betsy Mars – Assistant Editor
Betsy Mars works as a substitute teacher but her real dedication is to poetry. Her work has been published in journals such as Sheila-Na-Gig, One Art, Sky Island, and MacQueen's Quinterly. In 2019 she founded Kingly Street Press. She received nominations for the Pushcart Prize and for the Best of the Net in 2021. Betsy is involved in several artistic collaborations and is increasingly experimenting with photography. Her photos have appeared in Praxis, Spank the Carp, Redheaded Stepchild, and as the prompt for the Rattle Ekphrastic Challenge in March 2019. She wrote the collection Alinea, (Picture Show Press) and co-authored In the Muddle of the Night (Arroyo Seco Press) with Alan Walowitz.
Her taste in poetry is eclectic, running the gamut from Lewis Carroll to Emily Dickinson, e.e. cummings, John Donne, Kwame Dawes, Jane Kenyon, Ada Limón, Ilya Kaminsky, and beyond. The absurd and the profound (separately and together) please her. Though she appreciates a good, depressing poem as much as the next person, she also longs to be amused and uplifted.
Past Staff Members:
Hanna Pachman, Assistant Editor
Joshua A. Colwell, Assistant Editor, Social Media Manager
Kathleen Cassen Mickelson, Co-Founder and Editor
FOUNDING EDITORS: 
Constance Brewer and Kathleen Cassen Mickelson
Current Feline Editors:
Lorenzo the Tuxedo cat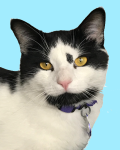 BIO: Lorenzo de' Magnificat is a rags to riches story. Rescued from Cat Slam (a shelter), he elevated himself to star status with a flick of a paw. Lorenzo created such bestsellers as Door Darting for the Ultimate Beginner, Shredding a Cardboard Box the Proper Way, Conquering My 'Nip Addiction: A Memoir, and Meowing for Breakfast at 4:00 A.M. Dislikes include squirt guns and people that fail to worship him as a god. He has many hobbies. Professional door darting, surveying the world from a sunny window perch, and reenacting Shakespeare—favorite quote: I'm dying for food, so let me have some. Orlando, As You Like It, Act 2, Scene 7. You can reach Lorenzo through his minion, Constance, or on his social media platform, Caterwaul.
Harper the Pyrenees Peluche cat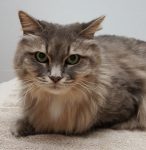 BIO: Harper is descended from cats who accompanied Saint Giles when he arrived in  La Vall de Núria in Catalonia around 700 AD. She was discovered in a suburb of East LA where her talents were being squandered and she was wasting away in anonymity. The author of groundbreaking literature written under a pseudonym to protect her privacy, her favorite books are To Kill a Mockingbird and Of Human Bondage. Favorite activities include…just kidding. She is opposed to activity. Named after Harper Lee, she craves nothing more than justice and equal access to the dry food bowl. In the same vein, she tries to remember that "A man [cat] may learn wisdom even from a foe" – Aristophanes.
Train the Ginger cat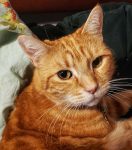 Train was destined for greatness from the moment he was marked with a kiss to differentiate him from his littermates. Though the lipstick soon wore off, his conviction of his distinction never did. Nevertheless, to his dismay, he is often mistaken for his brother Thorpe. Or a very large caramel swirl candy such as one might find at the five-and-dime in times past. Upon arrival in his new domain, he was given the more formal name of Coltrane, and like his namesake, he has undertaken a quest for universal truth.
Confined to the house due to an increase in undesirables in the neighborhood (i.e., coyotes) he can often be found at the magic ceramic fountain or at the desk drinking from his sparkly cup while contemplating the passing seasons. He is very attentive to claw maintenance, the better to shred any paper daring to come out of the printer. Train also enjoys a bit of catnip now and then to stave off the boredom of his days while he awaits your submission…I mean, submissions.
He takes his responsibilities seriously, mindful of this ancient inscription found on a royal tomb at Thebes, Egypt: "Thou art the Great Cat, the avenger of the gods, and the judge of words."(sic)  Please contact his mother/food server/water bearer/scribe/personal photographer/window opener/comfort object Betsy Mars with questions or requests for autographs or product endorsements.
Thorpe the Ginger cat
Along with his brother, Train, Thorpe, (or Orangethorpe, after whom a major LA thoroughfare is named), was plucked from the furry, squirming masses when he was just a kitten thanks to his intelligent face and unusual kinked tail. Legend has it this rare feature indicates that a cat is descended from breeds who resided in royal household where their tails served as ring holders.
Thorpe is inquisitive and thinks outside the box. Or, more often, in the box. A cat of many talents, he is a determined and gifted couch shredder. Despite his wary and shy demeanor, he is in fact a risk taker and adventurous eater. Interests include bonsai and flower rearranging, tasting things, and yarn(s). He can often be found at the top level of the 3-tiered climbing structure awaiting an opportunity to deploy his expert safe-cracking skills on the treat bin. Unlike fog, he literally does come in "on little cat feet," often taking household members by surprise with his stealth.
Thorpe is the author of several books, including Golf Club Covers and Other Fetishes and the inspirational bestseller, Take a Leap: Objects are Closer Than They Appear. He favors poetry that you can really sink your teeth into, but can also appreciate a clever limerick. His favorite author is Thomas Pynchon though he admits he did not understand Gravity's Rainbow. He also likes Bass. I mean, Ellen Bass.
Contact Head of Cat Maintenance Betsy Mars with inquiries, though Thorpe prefers to leave public appearances to Train.
CoCo the gray Tuxie cat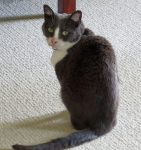 CoCo (named after CoCo Chanel) was saved from a troubled life on the rain-swept streets of Bellevue, WA after being knocked-up. She dabbled in film with a couple of cameos, gaining a reputation as "difficult to work with" after hissing at a director and shredding a series of shots that didn't show her "good side." It wasn't until she left Washington state and moved to Los Angeles that she came into her own as a poet and memoirist, gaining fame with her memoir in poems: He's Just Another Tom, an instant New York Times bestseller, and her kitty fitness classic: Racing Up the Stairs, How to Stay Fit and Fabulous in Your 40's. Now in her 100's (in cat years), she's working on a career-spanning collection: Playing Hard to Get and Other Mind Tricks to Bend Human Servants to Your Will. You can reach CoCo through her most-faithful human servant, Elya.
Retired Founding Canine Editors:
Max & Merlin, the Pembroke Welsh Corgis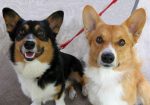 Ruby the Irish terrier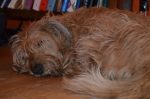 and Truffles the mini doxie
Check Gyroscope Review Guidelines
Submit!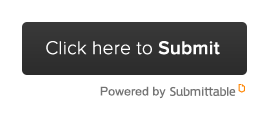 © 2024 Gyroscope Review All Rights Reserved