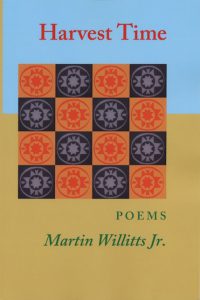 Martin Willitts Jr

.

Do you have an MP3 of you reading a poem? Send it along.
Your Chapbook or Book Title, Press, Where available for sale.
Harvest Time forthcoming in April 2021, Deerbrook Editions, available for pre-sale from the press or from myself.
Meditations on Thomas Cole's Paintings forthcoming in May, 2021, Aldrich Press, available for pre-sale from the press, or from myself.
Both will appear on Amazon.
What inspired you to write this Chapbook/Book? What else should we know about it? Or just add the Blurb.
Harvest Time is based on my childhood working summers on my Mennonite and Amish grandparent's farm, doing work the old, hard way without electricity or running water. I actually protected lambs from wolves by using a single-bolt rifle, milked cows, slaughtered animals for food, used a hand plow, did blacksmithing, sheared wool, spun it, dyed it, made fabric on a hand loom.
Meditiations on Thomas Cole's Paintings are exphrastic poems in a meditative style. I noticed that Cole was a spiritual writer and a person ahead of his times concerned about ecology and nature. He foresaw an end to the American experience. His majestic landscapes are open for lots of interpretations.
What was your journey to publication like?
I think my journey is still ongoing. I write in so many styles and approaches. I feel like I am still learning. Since I have been writing, I receive less rejections. Rejections still occur. I consider rejection to be a part of the learning curve. I have over 20 chapbooks and 20 full-lengths, winning two national contests in both formats. I work hard on the order of poems and where they appear in a book. It is one of the processes I have learned along the way.
Any upcoming Chapbook/Book releases? Upcoming poems in magazines?
I am extremely prolific. I have a total of four full-lengths arriving this year. I have another arriving next year. I recently won my third Rattle Exphrastic contest (Dec 2020). I have poems appearing in three forthcoming anthologies.
Your Website and Social Media Links.
https://nyq.org/poets/poet/martin-willitts
https://www.instagram.com/mwillitts01/channel/
https://www.facebook.com/martin.j.willitts
Any poets or books that inspired your writing?
My list is rather long and changes all of the time. Here are some: Robert Bly, Mary Oliver, William Stafford, Wally Swist, Margaret Gibson, Jane Kenyon, Chen Chen, Floyd Skloot, Nancy Chen Long, Lucille Clifton, Wendall Berry, Jericho Brown.
Who are you currently reading?
Wally Swist
Pay it Forward – Promote your favorite Charity, tell us why you love it, add a link.
Food and Water Watch (https://www.foodandwaterwatch.org/) is concerned with food insecurities, safe water to drink, ecology, organic growing, bee collapses, anything to do with "best practices." I donate to ten different groups. This might be the least known of the ones I promote.
Past Interviews
April 1 – Alison Stone
April 2 – Jessica Barksdale Inclan
April 3 – Maureen Sherbondy
April 4 – William Rector
April 5 – Carolyn Martin
April 6 – Lucy Griffith
April 7 – Better Than Starbucks
April 8 – Marjorie Becker
April 9 – Karen Arnold
April 10 – Sheree La Puma
April 11 – Sherry Rind
April 12 – Gloria Heffernan
April 13 – Kristian Macaron