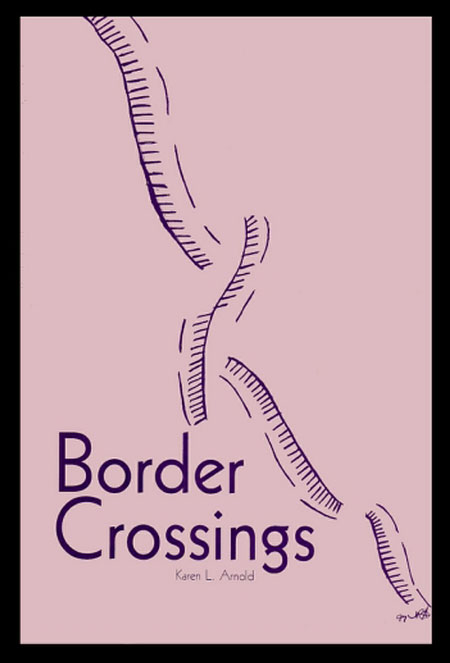 Karen Arnold
Your Chapbook or Book Title, Press, Where available for sale.
My chapbook title is Border Crossings from Perry Publishing, Columbia, MD
It is currently available on Amazon
What inspired you to write this Chapbook/Book? What else should we know about it? Or just add the Blurb.
I am a literary gypsy – child of the Midwest, granddaughter of immigrants and western pioneers. My love of light, water and the American west have inspired work about migration, crossing borders of all kinds, and the inner life of connection. These poems came from musings about place and its influence, a sense of possibility inherent in moving and meeting challenges in new places. The past and its places are never gone; they move and change with us and these poems celebrate our constant evolution and growth.
What was your journey to publication like?
My journey to publication involved sending out manuscripts and work in the usual way. When I finished my PhD I had a collection of work from a manuscript I had worked on with Reed Whittemore, former US Poet Laureate, and poems about my return to Sweden after years untethered from a family I found and reconnected with in 1988. My journey was a research trip to explore women's lives in nineteenth century Sweden so I could continue work on my poetry and prose about a Swedish woman character arriving in the US in the nineteenth century. I finally decided to look for a local press that would collaborate on publication in 1997 while I was still Poet-in-Residence at Montpelier Cultural arts Center and had been doing some readings in the area. I was pleased to offer poetry about border crossings. Amidst the flood of anti-immigrant sentiment we are (hopefully) starting to move beyond, the title seems relevant on political levels as well as personal.
Any upcoming Chapbook/Book releases? Upcoming poems in magazines?
My most recent poems were in Gyroscope this spring and upcoming in Tipton Poetry Journal.
You can also find my work in Trajectory, Iconoclast, and Connecticut Review.
Your Website and Social Media Links.
The best way to find me is by email: arnldkkar@aol.com
Any poets or books that inspired your writing?
I have just finished reading The Mountains Sing by Nguyen Phan Que Mai, fiction based on her grandmother's story and a testament to the stamina and resilience of the North Vietnamese from the 1930s to the 1970s, years of unceasing wars on many fronts. Before that I read Louise Erdrich's book, The Night Watchman, a fiction inspired by her Native American grandfather's leadership in protecting the tribal rights of The Turtle Mountain Band of Chippewa, preventing their termination in the fifties. Two more recent favorites are, Red at the Bone by Jacqueline Woodson and girl, woman, other by Bernardine Evaristo both books about diversity and success!
Who are you currently reading?
My favorite charity is The House of Ruth in Baltimore, MD. Our daughter has been a counselor for domestic abusers and addiction issues and my husband and I have deep concerns for the women and children that flee abusive situations, leaving everything behind. We donate my handmade baby blankets, newly purchased children's clothing and women's personal care products year round to ease the transition to safer lives. At holiday time we coordinate gift bags for women and children among our network of family and friends.
Pay it Forward – Promote your favorite Charity, tell us why you love it, add a link.
houseofruth@houseofruth.org   410-889-0840 Administrative Office
House of Ruth empowers women, children and families to rebuild their lives and heal from trauma, abuse and homelessness.
Past Interviews
April 1 – Alison Stone
April 2 – Jessica Barksdale Inclan
April 3 – Maureen Sherbondy
April 4 – William Rector
April 5 – Carolyn Martin
April 6 – Lucy Griffith
April 7 – Better Than Starbucks
April 8 – Marjorie Becker