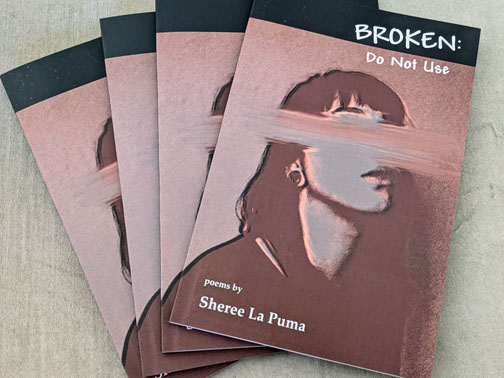 Sheree La Puma
Do you have an MP3 of you reading a poem? Send it along.
Your Chapbook or Book Title, Press, Where available for sale.
Broken: Do Not Use, Main Street Rag Publishing
What inspired you to write this Chapbook/Book? What else should we know about it? Or just add the Blurb.
For La Puma, the question is what to wear to dualism's dirty parade. Unadorned with V for victim, these poems are red balloons marked with the black letter "M" for mother. Written on the pages of her children's backs as they walk away, each line unravels likes threads of sorrow, each metaphor a raft filled with family pictures drifts toward the shore of the world. ~Daniel Edward Moore, author of Boys and Waxing the Dents
In Sheree La Puma's beautifully reflective Broken: Do Not Use, the natural and human worlds mingle in quietly unsettling ways. She paints a "surreal & sensuous world of roots" populated by lullabies and toxins, families and wolves, deep yearning and equally deep grief. These resonant poems illustrate how meaningful details can reflect larger human concerns, painting intimate portraits of personal, cultural, and ecological tragedies. I dare anyone to read these poems and not be shaken and moved. ~John Sibley Williams, author of As One Fire Consumes Another
What was your journey to publication like?
Extremely long and arduous. First I had to live, process it. Then heal enough to write about the loss/grief of losing my children and their father. The first through estrangement, my ex-husband in a plane crash.
Any upcoming Chapbook/Book releases? Upcoming poems in magazines?
2021 – "Before Death; there is no justice," Poetry, Dogwood, A Journal of Poetry and Prose, Forthcoming
2021 – "Memories of Flight," Poetry, Runner Up in the Juxtaprose Poetry Prize 2020, Forthcoming
2021 – "Dear Katie," Poetry, Free State Review, Forthcoming.
2021 – "The Phone Call," Poetry, The MacGuffin, Forthcoming.
2021 – "Which Country Should We Bomb Today," Sh!t Men Say to Me: A Poetry Anthology in
Response to Toxic Masculinity, Moon Tide Press -Forthcoming 2021
2021 – "Woman/Body/Word," Poetry, The Penn Review
Your Website and Social Media Links.
www.instagram.com/shereewrites
www.facebook.com/shereewritespoetry
Any poets or books that inspired your writing?
Max Ritvo, Leslie McGrath, Sandra Cisneros, Lauren Camp, Maggie Smith, Ocean Vuong.
Who are you currently reading?
Before The Fevered Snow Megan Merchant and Ghost Dogs byDion O'Reilly
Pay it Forward – Promote your favorite Charity, tell us why you love it, add a link.
A Noise Within. Wonderful local theater company.
Past Interviews
April 1 – Alison Stone
April 2 – Jessica Barksdale Inclan
April 3 – Maureen Sherbondy
April 4 – William Rector
April 5 – Carolyn Martin
April 6 – Lucy Griffith
April 7 – Better Than Starbucks
April 8 – Marjorie Becker
April 9 – Karen Arnold