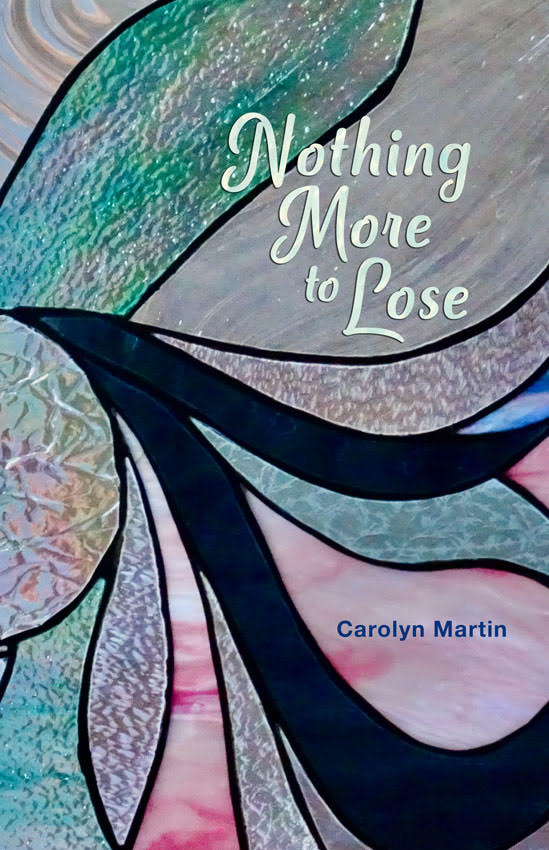 Carolyn Martin
Do you have an MP3 of you reading a poem? Send it along.
Attached is one of the poems Gyroscope Review published: You do not have to be good.
Your Chapbook or Book Title, Press, Where available for sale.
Nothing More to Lose, The Poetry Box, 2020.
Available in the Books section of www.carolynmartinpoet.com
What inspired you to write this Chapbook/Book? What else should we know about it? Or just add the Blurb.
Nothing More to Lose is an intense, hair-raising, and hopeful account of one family's resilience and faith.With 25 narratives based on Therese Kolbert Dieringer's autobiography, My Life – Lived and Remembered: A journey across Hungary, Germany, and America, Carolyn Martin tracks the Kolbert family as they escape from Hungary in 1944, endure seven years of starvation and sickness in Germany, and arrive to a new life in America in1952. Refugees who know neither the language nor landscape, they finally find some semblance of peace in their new home. Nothing More to Lose will open readers' hearts and minds to the challenges that refugees in every era face.
What was your journey to publication like?
Easy, because I had published with The Poetry Box before and this boutique press has the best editors/artists around. (ThePoetryBox.com)
Any upcoming Chapbook/Book releases? Upcoming poems in magazines?
My fifth collection, The Catalog of Small Contentments, will also be released by The Poetry Box in August 2021.
Your Website and Social Media Links.
www.carolynmartinpoet.com
Any poets or books that inspired your writing?
Billy Collins, Mary Oliver, Natasha Trethewey, Ellen Bass, Robert Frost, William Carlos Williams, Wislava Szymborska.
Who are you currently reading?
Natasha Trethewey's Monument.
Pay it Forward – Promote your favorite Charity, tell us why you love it, add a link.
The Oregon Food Bank (https://www.oregonfoodbank.org) collects food from farmers, manufacturers, wholesalers, retailers, individuals, and government sources. We distribute that food through a Statewide Network of 21 Regional Food Banks and approximately 1,400 food assistance sites serving all of Oregon and Clark County, Washington.
Past Interviews
April 1 – Alison Stone
April 2 – Jessica Barksdale Inclan
April 3 – Maureen Sherbondy
April 4 – William Rector
The Spring 2021 Issue is now Available!
Please visit Print and Kindle Issues Available Through Amazon to purchase paperback or Kindle versions.