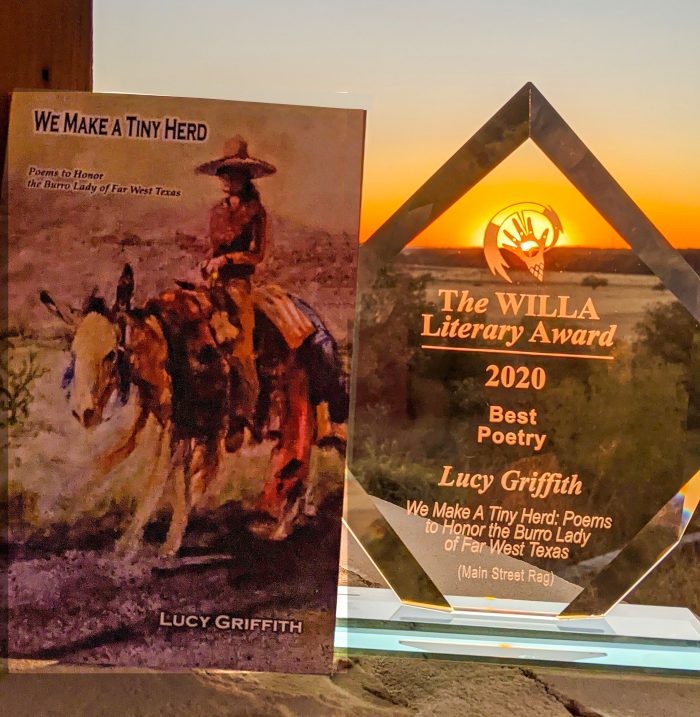 Lucy Griffith
Your Chapbook or Book Title, Press, Where available for sale.
We Make a Tiny Herd available from Main Street Rag Press
What inspired you to write this Chapbook/Book? What else should we know about it? Or just add the Blurb.
A persona poem I wrote for a craft class about a woman and her burro in Far West Texas.
What was your journey to publication like?
I was a finalist in the Main Street Rag Poetry Book contest.
Any upcoming Chapbook/Book releases? Upcoming poems in magazines?
I will have work in the next issue of San Pedro River Review, Ironhorse Literary Magazine and the Texas Review Press anthology of poems about Virginia.
Your Website and Social Media Links.
Instagram griffith_lucy
Any poets or books that inspired your writing?
Stanley Kunitz, Maxine Kumin, Ada Limon
Who are you currently reading?
Rita Dove's complete collection
Pay it Forward – Promote your favorite Charity, tell us why you love it, add a link.
Casa Q in Albuquerque provides housing and support to LGBTQ youth who have been kicked out of their homes.
Past Interviews
April 1 – Alison Stone
April 2 – Jessica Barksdale Inclan
April 3 – Maureen Sherbondy
April 4 – William Rector
April 5 – Carolyn Martin
The Spring 2021 Issue is now Available!
Please visit Print and Kindle Issues Available Through Amazon to purchase paperback or Kindle versions.