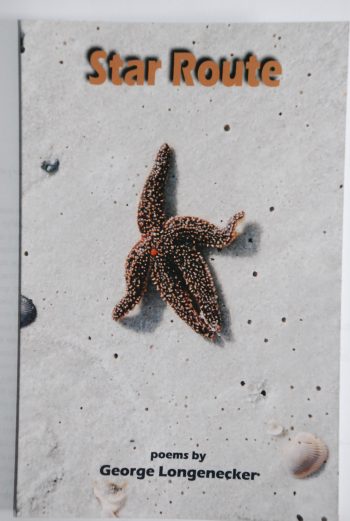 George Longenecker
Do you have an MP3 of you reading a poem? Send it along.
Your Chapbook or Book Title, Press, Where available for sale.
Star Route Main Street Rag Publishing
What inspired you to write this Chapbook/Book? What else should we know about it? Or just add the Blurb.
I was inspired by my muse Cynthia, and by several good teachers.
Chard deNiord Poet Laureate of Vermont said:
"George Longenecker writes as both stargazer and Earthling, shifting back and forth in his local chronicles between cosmic wonder and immense particulars. Both car fenders and stars shine with equal glow in these poems. His parallax vision coalesces into a single yet complex outlook that captures his human vista—both inscrutable distance and exquisite minutiae. The more details Longenecker gets down, both animate and inanimate, the more tender he becomes in his awareness as a minute mortal with a wide eye and fragile hand. "Planets and stars fall to the horizon," he writes in "It Doesn't Matter Much on Jupiter," 'A storm blows on Jupiter/ older than all of our history—/ Love, I hope we can survive/ for one more night.'"
What was your journey to publication like?
I submitted to lots of publishers, before I found one, then it was smooth sailing and just none moths to publication.
Any upcoming Chapbook/Book releases? Upcoming poems in magazines?
Poems in Main Street Rag, Evening Street Review and Mountain Troubadour
Your Website and Social Media Links.
Any poets or books that inspired your writing?
Major Jackson, Natasha Trethewey, Susan Thomas
Who are you currently reading?
Yes, with Poetry Society of Vermont virtually
Pay it Forward – Promote your favorite Charity, tell us why you love it, add a link.
350.org
Past Interviews
April 1 – Alison Stone
April 2 – Jessica Barksdale Inclan
April 3 – Maureen Sherbondy
April 4 – William Rector
April 5 – Carolyn Martin
April 6 – Lucy Griffith
April 7 – Better Than Starbucks
April 8 – Marjorie Becker
April 9 – Karen Arnold
April 10 – Sheree La Puma
April 11 – Sherry Rind
April 12 – Gloria Heffernan
April 13 – Kristian Macaron
April 14 – Martin Willits Jr.