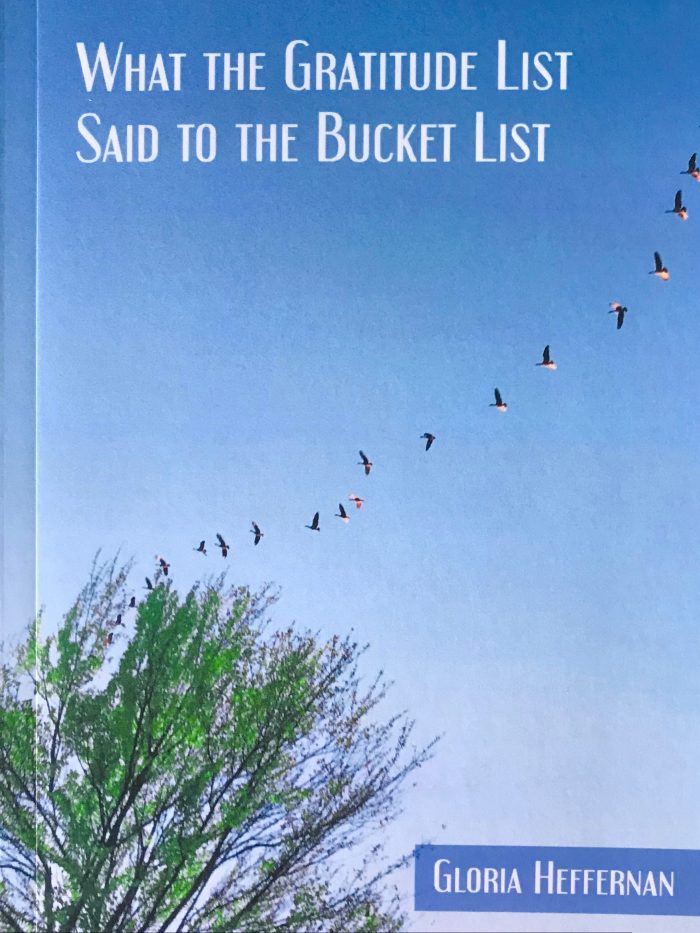 Gloria Heffernan
Your Chapbook or Book Title, Press, Where available for sale.  
What the Gratitude List Said to the Bucket List, New York Quarterly Books, available from the publisher at NYQ Books – What the Gratitude List Said to the Bucket List, as well as Amazon.com, BarnesandNoble.com.
What inspired you to write this Chapbook/Book? What else should we know about it? Or just add the Blurb.
What the Gratitude List Said to the Bucket List is an invitation to notice the world around us and appreciate its gifts. Heffernan pays homage to the loved ones who have shaped her world view, and the poets who have inspired her to express that view. A firm adherent to Louise Gluck's declaration that we must "risk joy," Heffernan invites readers to do exactly that—even while recognizing the grief that often goes hand-in-hand with gratitude.
What was your journey to publication like?
I came to publishing later in life than many poets. Through sheer persistence, I have had work published in over seventy journals since I began sending work out five years ago. My first full-length collection, What the Gratitude List Said to the Bucket List, was published the year I turned sixty.
Any upcoming Chapbook/Book releases? Upcoming poems in magazines?
My poem, "Bumper Sticker Theology on Route 690," is included in the anthology, Without a Doubt: Poems Illuminating Faith, forthcoming from New York Quarterly Books. "Cardio-in-Place" will appear in the upcoming issue of Yale University Medical School's literary journal, The Perch, in March.
Your Website and Social Media Links.
Any poets or books that inspired your writing?
Marilyn Nelson, Mary Oliver, Marge Piercy, Galway Kinnell, Wendell Berry, Seamus Heaney
Who are you currently reading? Robin Wall Kimmerer's Braiding Sweetgrass, and Poetry of Presence.
Pay it Forward – Promote your favorite Charity, tell us why you love it, add a link.
I am proud to be an instructor at the Syracuse YMCA's Downtown Writers Center.  Since the pandemic began, the DWC has begun providing poetry readings and workshops on-line via Zoom.  It's a great organization worthy of generous support. Visit their website at:  Creative Writing | YMCA OF CENTRAL NEW YORK (ymcacny.org).
Past Interviews
April 1 – Alison Stone
April 2 – Jessica Barksdale Inclan
April 3 – Maureen Sherbondy
April 4 – William Rector
April 5 – Carolyn Martin
April 6 – Lucy Griffith
April 7 – Better Than Starbucks
April 8 – Marjorie Becker
April 9 – Karen Arnold
April 10 – Sheree La Puma
April 11 – Sherry Rind