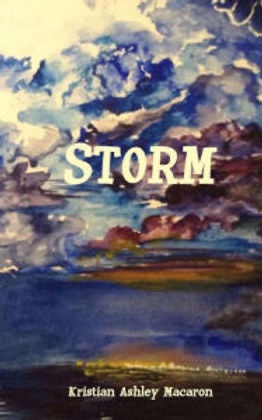 Kristian Macaron
Do you have an MP3 of you reading a poem? Send it along.
Yes! Actually, I have a recording of "Quake" which was published in Gyroscope Review July 2020 issue. I made this recording for Ms. Brown's (msbrownread.com) middle school class at Achievement First for one of their poetry lessons.
Your Chapbook or Book Title, Press, Where available for sale.
Storm, published by Swimming with Elephants Publications 2015
Available on Amazon, Kindle, Barnes & Noble, Bookworks in Albuquerque, NM
Barnes & Noble: https://www.barnesandnoble.com/w/storm-kristian-ashley-macaron/1122212442?ean=9780692468609
Kindle: https://www.amazon.com/Storm-collection-poetry-Kristian-Macaron-ebook/dp/B0775KFYVP
Amazon: https://www.amazon.com/Storm-Kristian-Ashley-Macaron/dp/0692468609
Bookworks, Albuquerque: https://www.bkwrks.com/aff/SwEP/book/9780692468609
Swimming with Elephants Publications https://swimmingwithelephants.com/2019/12/17/kristian-ashley-macaron/
What inspired you to write this Chapbook/Book? What else should we know about it? Or just add the Blurb.
Blurb: Kristian Macaron's first chapbook of poetry features her various experiences in New England during the midst of some of the most powerful storms to pass through between 2010 and 2014. Her poetry is raw, honest, and revealing. This is a wonderful for collection for anyone who has experience the confusing effects of natural disaster as well as those who may have never had such an experience.
What was your journey to publication like?
When I wrote these poems for Storm, I had just moved from my home in Boston, MA, back to my hometown of Albuquerque, NM. The decision came after I suffered an immense loss and although I love Albuquerque, at the time, I was experiencing an extreme displacement. These poems helped me to understand my journey from a distance and it helped me to work through some important memories. I was able to read these poems at a poetry feature as a cycle. Something that I have not really been able to do since, and that too was crucial for me.
Working with Swimming with Elephants Publications to publish these pieces as a set was a wonderful experience. I am so grateful to Katrina Crespin for all her dedication to give voices to so many incredible authors in the SwEP repertoire
Any upcoming Chapbook/Book releases? Upcoming poems in magazines?
I do have a book forthcoming, but it has not been announced yet
Currently forthcoming poems:
"recipe for time travel in case we lose each other" is forthcoming in Asimov's Science Fiction Magazine
"mapmaking" is forthcoming in Uncanny Magazine
Currently forthcoming fiction:
"Precipice" is forthcoming in Gargoyle Magazine
Your Website and Social Media Links.
website: https://www.kristianmacaron.com
Twitter: https://twitter.com/kristianmacaron
Instagram: https://www.instagram.com/maps_with_monsters/
Any poets or books that inspired your writing?
I am constantly finding new inspirations, but at the core, my writing inspirations are Joy Harjo, Aracelis Girmay, Quiara Alegria Hudes, Ray Bradbury, Amy Hempel, & Jeff Vandermeer.
Who are you currently reading?
Elatsoe by Darcie Little Badger
The Memory of Babel by Christelle Dabos
Life on Mars by Tracy K Smith
Pay it Forward – Promote your favorite Charity, tell us why you love it, add a link.
I advocate for Raices organization because of their intention to support human rights for immigrants: https://www.raicestexas.org
One local charity I support is Steelbridge: https://www.mysteelbridge.org which is a Homeless shelter and food source for the Albuquerque community.
Past Interviews
April 1 – Alison Stone
April 2 – Jessica Barksdale Inclan
April 3 – Maureen Sherbondy
April 4 – William Rector
April 5 – Carolyn Martin
April 6 – Lucy Griffith
April 7 – Better Than Starbucks
April 8 – Marjorie Becker
April 9 – Karen Arnold
April 10 – Sheree La Puma
April 11 – Sherry Rind
April 12 – Gloria Heffernan