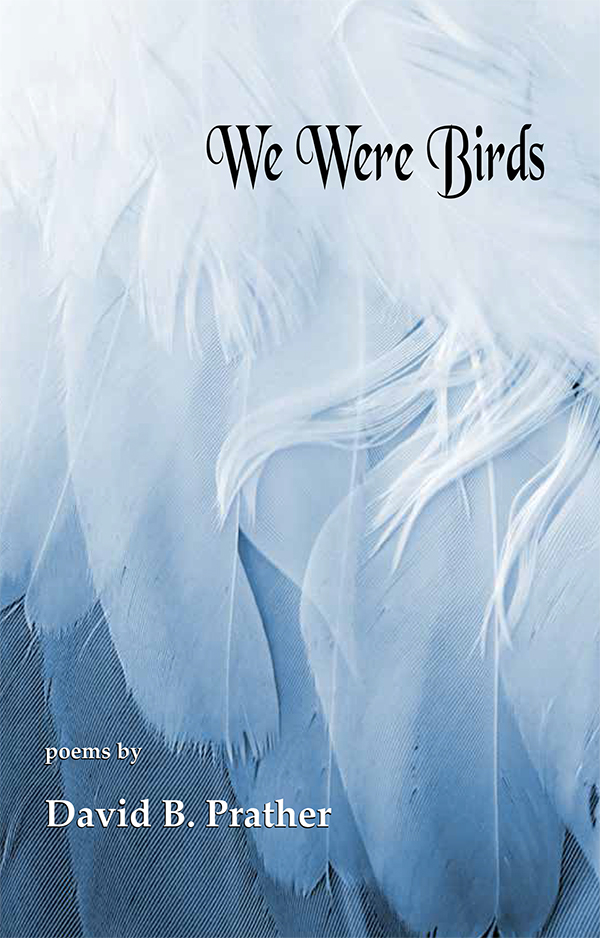 David B. Prather
Do you have an MP3 of you reading a poem? Send it along.
Your Chapbook or Book Title, Press, Where available for sale.
WE WERE BIRDS, Main Street Rag Publishing,
What inspired you to write this Chapbook/Book? What else should we know about it? Or just add the Blurb.
WE WERE BIRDS is not singularly thematic; however, I've always been inspired by our avian friends and the superstitions we place upon them. As such, many of the poems in this collection are an exploration of the psychology of those myths and misgivings, and the desire to be more than an earthbound body.
What was your journey to publication like?
After acquiring my MFA, I went through a deep distrust and disgust for publishing (even though I had been an editor and had some success with publishing work in various journals). It wasn't until one of my writing mentors contacted me that I began to feel guilty, that I had, perhaps, let them down. It took me seventeen years to be pulled back to the larger conversation that is poetry. After a few false starts of submitting the manuscript, then having it rejected, I switched out some work to make the collection stronger. Main Street Rag Publishing contacted me after only a couple of weeks to let me know my manuscript was accepted. It took about a year to have copies in hand, but it was worth it.
Any upcoming Chapbook/Book releases? Upcoming poems in magazines?
I've been a little lax about sending work out recently, so I have to change that. But I do have a new manuscript completed and ready for a publisher!
Your Website and Social Media Links.
https://www.facebook.com/DavidBPrather
https://twitter.com/PratherRe      (@PratherRe)
Any poets or books that inspired your writing?
WHAT WORK IS by Philip Levine
SATAN SAYS by Sharon Olds
WHEN ONE HAS LIVED A LONG TIME ALONE by Galway Kinell
WILD IRIS by Louise Glück
Who are you currently reading?
I'm rereading the books of one of my mentors, Tony Hoagland.
Pay it Forward – Promote your favorite Charity, tell us why you love it, add a link.
Though I think there are many small presses that deserve everything we can pour into them, I have to go with the Actors Guild of Parkersburg in Parkersburg, WV. I have acted and directed with them for twenty years. And in a town of little diversity, this community theater tries to be inclusive with all the talent they can get on their stage. (And I didn't want my National Shakespeare Conservatory acting education to go to waste!)
https://www.actors-guild.com/donate.html
Past Interviews
April 1 – Alison Stone
April 2 – Jessica Barksdale Inclan
April 3 – Maureen Sherbondy
April 4 – William Rector
April 5 – Carolyn Martin
April 6 – Lucy Griffith
April 7 – Better Than Starbucks
April 8 – Marjorie Becker
April 9 – Karen Arnold
April 10 – Sheree La Puma
April 11 – Sherry Rind
April 12 – Gloria Heffernan
April 13 – Kristian Macaron
April 14 – Martin Willits Jr.
April 15- George Longenecker
April 16 – Tresha Faye Haefner
April 17 – L.Shapley Bassen
April 18 – Dotty LeMieux
April 19 – Sharon Fagan McDermott
April 20 – Steven Croft
April 21 – Cathleen Calbert
April 22 – Cathryn Shea
April 23 – Bartholomew Barker
April 24 – Stripes Magazine
April 25 – Ken Cathers
April 26 – Linda Neal