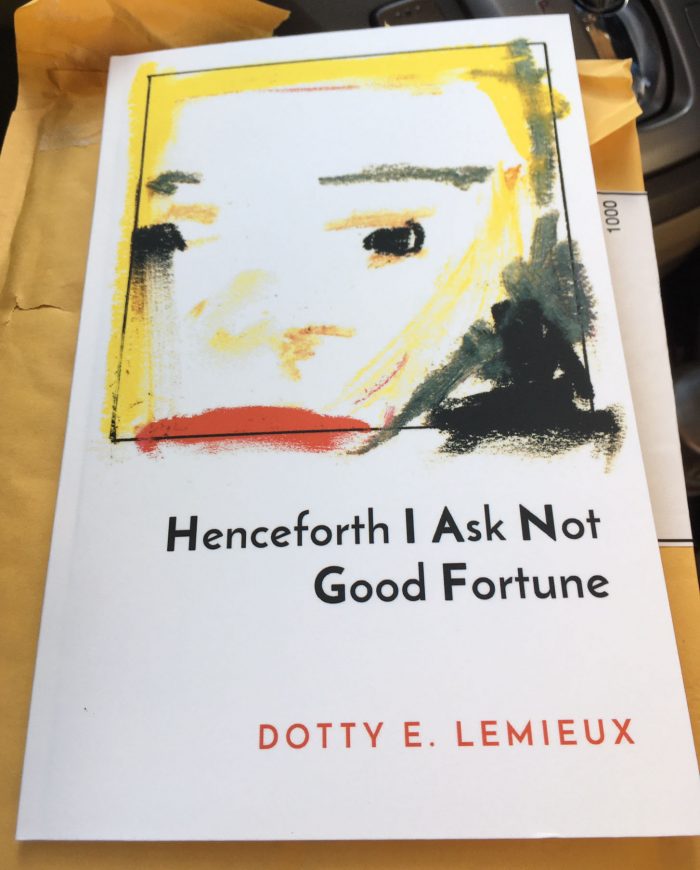 Dotty LeMieux
Your Chapbook or Book Title, Press, Where available for sale.
Henceforth I Ask Not Good Fortune, can be bought at Finishing Line Press or Amazon if you are so inclined.
What inspired you to write this Chapbook/Book? What else should we know about it? Or just add the Blurb.
I observe life around me. I imagine it going forth.
What was your journey to publication like?
Sent a few places. Entered contests, didn't win, but FLP asked to publish.
Any upcoming Chapbook/Book releases? Upcoming poems in magazines?
Oregon Poetry Association Anthology, Main Street Rag and Antonym are all coming up.
Your Website and Social Media Links.
https://www.dottylemieuxpoemsandmore.com/
https://www.facebook.com/DottyLeMieuxPoetry
Any poets or books that inspired your writing?
Walt Whitman, Joanne Kyger, Frank O'Hara
Who are you currently reading?
Frank O'Hara
Lydia Davis
Pay it Forward – Promote your favorite Charity, tell us why you love it, add a link.
Marin Humane Society They save animals, help people rescue and train them, and are always there when you need them https://www.marinhumane.org/
Past Interviews
April 1 – Alison Stone
April 2 – Jessica Barksdale Inclan
April 3 – Maureen Sherbondy
April 4 – William Rector
April 5 – Carolyn Martin
April 6 – Lucy Griffith
April 7 – Better Than Starbucks
April 8 – Marjorie Becker
April 9 – Karen Arnold
April 10 – Sheree La Puma
April 11 – Sherry Rind
April 12 – Gloria Heffernan
April 13 – Kristian Macaron
April 14 – Martin Willits Jr.
April 15- George Longenecker
April 16 – Tresha Faye Haefner
April 17 – L.Shapley Bassen