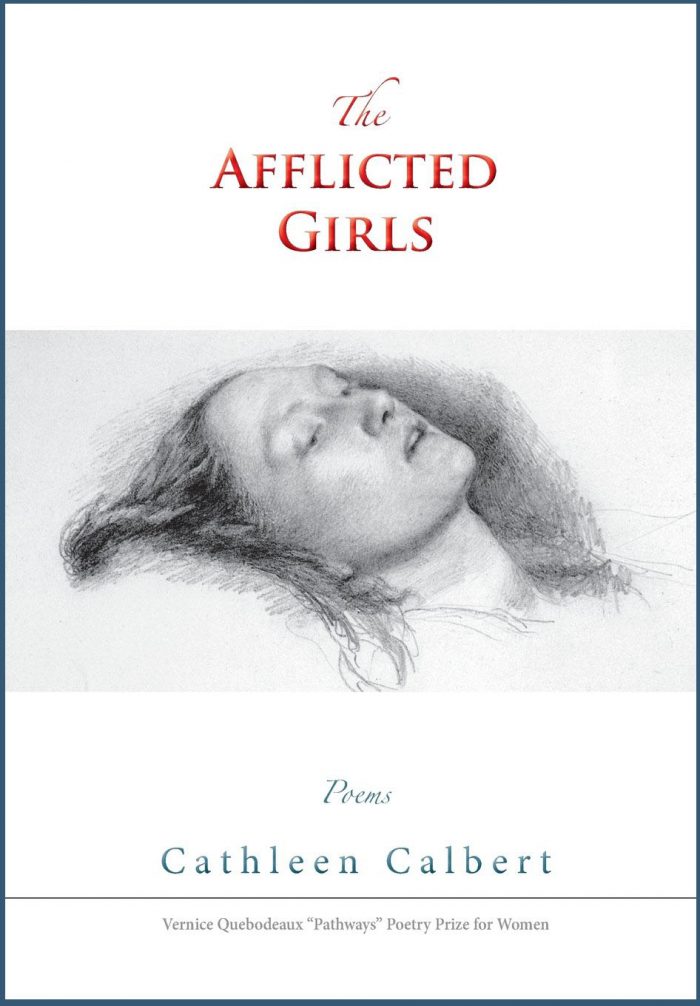 Cathleen Calbert
Do you have an MP3 of you reading a poem? Send it along.
Yes, of my poem "I Don't Want to Read a Poem about Baseball," which first appeared in Gyroscope.
Your Chapbook or Book Title, Press, Where available for sale.
The Afflicted Girls, Little Red Tree Publishing, available from Little Red Tree and Amazon.
What inspired you to write this Chapbook/Book? What else should we know about it? Or just add the Blurb.
"Cathleen Calbert has written a history of the world, but this time a woman is holding the pen and we're getting the real scoop from the girls, who have been writing it all along. From Eve through the virgins and saints and witches and bad girls-we hear the other side of the story. Women take to the high seas, and they know everyone's secrets. This is an angry book, a fiercely intelligent book, a book that will make you laugh and cry on the same page. Fasten your seat belts, dear reader. You're in for a wild ride."-Barbara Hamby
What was your journey to publication like?
Long, as they usually are! But I'm glad the book came to be and think it's very pretty.
Any upcoming Chapbook/Book releases? Upcoming poems in magazines?
"I Don't Want to Read a Poem about Baseball," which first appeared in Gyroscope, will appear in a swell upcoming anthology, Sh!t Men Say to Me: A Poetry Anthology in Response to Toxic Masculinity, from Moon Tide Press.
Your Website and Social Media Links.
http://www.cathleencalbert.com
Any poets or books that inspired your writing?
Too many to name!
Who are you currently reading?
Angela Carter's Wise Children.
Pay it Forward – Promote your favorite Charity, tell us why you love it, add a link.
https://www.indiegogo.com/projects/moon-tide-press-presents-sh-t-men-say-to-me#
Past Interviews
April 1 – Alison Stone
April 2 – Jessica Barksdale Inclan
April 3 – Maureen Sherbondy
April 4 – William Rector
April 5 – Carolyn Martin
April 6 – Lucy Griffith
April 7 – Better Than Starbucks
April 8 – Marjorie Becker
April 9 – Karen Arnold
April 10 – Sheree La Puma
April 11 – Sherry Rind
April 12 – Gloria Heffernan
April 13 – Kristian Macaron
April 14 – Martin Willits Jr.
April 15- George Longenecker
April 16 – Tresha Faye Haefner
April 17 – L.Shapley Bassen
April 18 – Dotty LeMieux
April 19 – Sharon Fagan McDermott
April 20 – Steven Croft