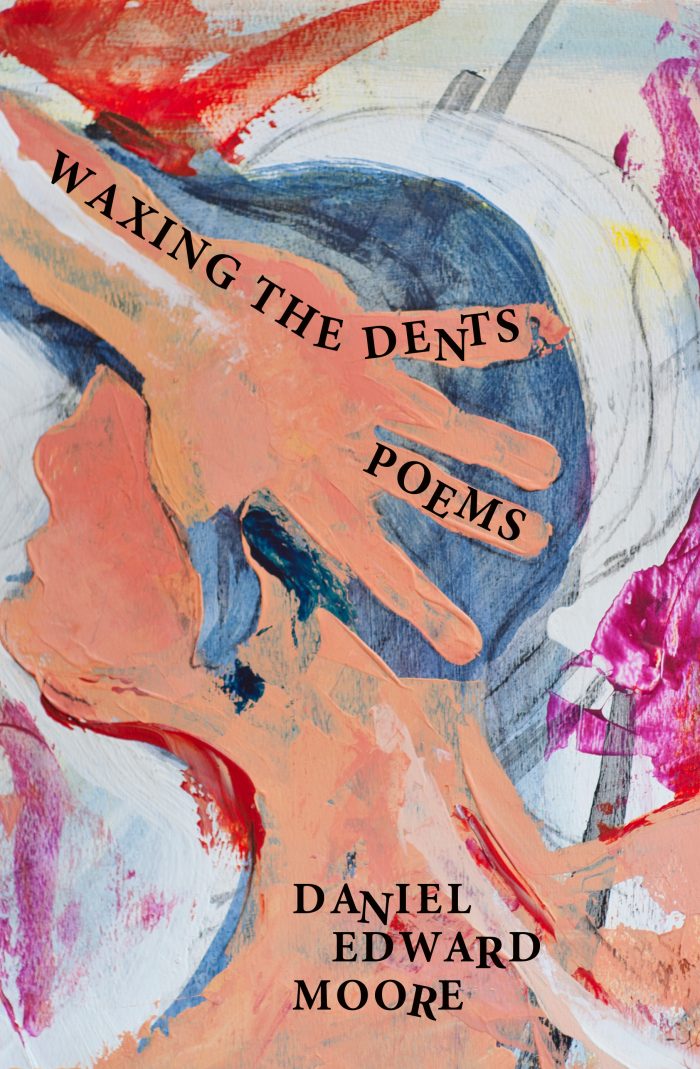 Daniel Edward Moore
Your Chapbook or Book Title, Press, Where available for sale.
"Waxing The Dents" Brick Road Poetry Press. It is available directly from the press and Amazon and Barnes and Noble.
What inspired you to write this Chapbook/Book? What else should we know about it? Or just add the Blurb.
"Daniel Edward Moore writes with the passion and internal conflict of a classic literary anti-hero, a difficult task for a collection of poems. He pulls it off with a style uniquely his, blending the romantic with the philosophical, the decadent with the metaphysical, as he searches for connections and balance between the sacred and profane. Waxing the Dents is less like reading a book and more like sitting in the audience for a performance of Beethoven's 9th. It begins with a handful of lovely romantic musings, then builds in intensity until it's raging furiously, shaking its lyrical fist at the sky. By the time I finished this book, I found myself trembling, perhaps a little exhausted. It's powerful writing from a skilled craftsman."
—Ace Boggess, author of The Prisoners and I Have Lost the Art of Dreaming It So
What was your journey to publication like?
It took three years to write and I was fortunate to have had over 2/3 of the poems published
before it was taken.
Any upcoming Chapbook/Book releases? Upcoming poems in magazines?
Lullwater Review: "Comfort"

Emrys Journal: "Apocalypse is such a Gorgeous Word"

The Meadow: "Island Linguistics"

Muddy River Poetry Journal: "The Year"

The Lindenwood Review: "Elegy for the Worst"

Sheila-Na-Gig Pandemic Anthology: "The Last Dirty Word Everyone is Dying to Say" and "Broken Yoke"

The Chaffin Journal: "When Holiness Came to Town"

Impossible Archetype: "Mt. Sanai Gym on Sunday

Book of Matches: "Ancient History Lessons"

The Pangolin Review: "Alarmed"

Adelaide Magazine: "Sext" "Action Heroes" Misunderstanding Avenue"

"Help Me remember the Roses"

The American Journal of Poetry: "All Darlings," "Altitude," and Old & Tired"
Your Website and Social Media Links.
Facebook is Daniel Edward Moore
Twitter is Rilkeman
Any poets or books that inspired your writing?
Carl Phillips, Mark Doty and Louise Gluck.
Who are you currently reading?
Joshua Rivkin's "Suitor", Natalie Diaz's "Post Colonial Love Poem,"
and Victoria Chang's "Obit."
Pay it Forward – Promote your favorite Charity, tell us why you love it, add a link.
The Trevor Project for helping to educate and provide resources to prevent young gay sucicides.
https://www.thetrevorproject.org/
Past Interviews
April 1 – Alison Stone
April 2 – Jessica Barksdale Inclan
April 3 – Maureen Sherbondy
April 4 – William Rector
April 5 – Carolyn Martin
April 6 – Lucy Griffith
April 7 – Better Than Starbucks
April 8 – Marjorie Becker
April 9 – Karen Arnold
April 10 – Sheree La Puma
April 11 – Sherry Rind
April 12 – Gloria Heffernan
April 13 – Kristian Macaron
April 14 – Martin Willits Jr.
April 15- George Longenecker
April 16 – Tresha Faye Haefner
April 17 – L.Shapley Bassen
April 18 – Dotty LeMieux
April 19 – Sharon Fagan McDermott
April 20 – Steven Croft
April 21 – Cathleen Calbert
April 22 – Cathryn Shea
April 23 – Bartholomew Barker
April 24 – Stripes Magazine
April 25 – Ken Cathers
April 26 – Linda Neal
April 27 – David B. Prather
April 28 – Matthew Babcock