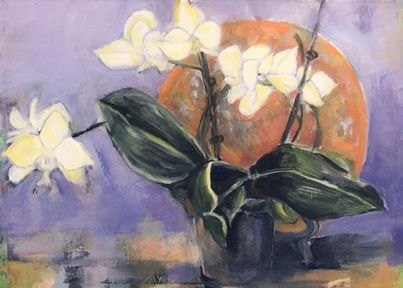 Almost
    by Thomas A. Thomas

    Through the dream veil 
    made of orchids another 
    timeline appears
    in this one, horses hobbled
    so as not to graze too far
    overnight and behind them 
    on the backdrop of an alpine lake 
    the floatplanes land and
    take off, or float like kittiwakes
    The horses are fat & fit
    and the weather is fine
    but something has not opened 
   in the day and still she says no.

    Or orchids stand silent witness 
    within the dimension of this 
    timeline, as she taps with a key
    on the frame of his door, the 
    door opens, her umbrella closes
    then drops to the floor along
    with purse, raincoat, skirt,
    blouse, panties, bra, a path
    to the bed where time is endless
    for a long languorously wanton 
    rain-dark Tuesday afternoon.
 
    Or it's the same Tuesday
    with white orchids under 
    his lamp on the windowsill
    gleaming beside the steel 
    colored rain on the glass, past
    the time they had thought 
    she might come for tea 
    and poetry and perhaps love
    would join them, savory, sweet
    delight of their skin and 
    flesh so long neglected
    but this time she said her
    no on the phone, by text, no
    not this timeline either. with
    some regret, though not enough.


Origin Stories – ekphrastic poem Almost
The inspiration for this poem was an ancient one: longing for a person who kept approaching, coming close, even making plans for a rendezvous, but then slipping away. So I sort of had 3 poems on that subject, one from a night dream, another from a daydream, and a 3rd from the earthly story. And I didn't really like any of the poems very much, but as I was gazing at this unfinished painting of orchids, it occurred to me that the orchids could be the thread to stitch these 3 little poems into a whole. And the "unfinished" state of the painting was perfectly aligned with the unfinished business of the poem!
BIO
Thomas A. Thomas was born in Illinois, but after more than 41 years as a resident of Washington he most definitely considers the Pacific Northwest region his homeland.
At University of Michigan, Thomas A. Thomas, poet/photographer, studied with Donald Hall, Gregory Orr, and Robert Bly. He won Minor and Major Hopwood Awards in Poetry, and his poem "Approaching Here" was choreographed and performed at UM. He has for years been actively engaged in OPN and in the critique group Live Like a Poet, founded by Joanne Clarkson.
His poetry and photographs appear in print and online, most recently in Cirque Journal, Gyroscope Review, Blue Heron Review, Vox Populi Sphere, TheBanyanReview.org & FemAsiaMagazine.com, as well as anthologies in English and Serbian and in translation to Spanish, Serbian, and Bengali.
His collection, "Getting Here" is available on Bookshop.org and other e-book and printed book sources. He was nominated for both Best of the Net and The Pushcart Prize for 2022.
Linktree (one link to rule them all): https://linktr.ee/thomasathomas
Previous Origin Stories
April 1 – Wanda Praisner
April 2 – Howard Lieberman
April 3 – L. Shapley Bassen
April 4 – Sharon Scholl
April 5 – Stellasue Lee
April 6 – Jeanne DeLarm
April 7 – Virginia Smith
April 8 – Patricia Ware
April 9 – Mary Makofske
April 10 – Ann Wallace
April 11 – Jessica Purdy
April 12 – Lakshman Bulusu
April 13 – Kim Malinowski
April 14 – Anita Pulier
April 15 – Martha Bordwell
April 16 – Anastasia Walker
April 17 – Annette Sisson
April 18 – Shaheen Dil
April 19 – Claudia Reder
April 20 – Cathy Thwing
April 21 – Sarah Snyder
April 22 – Susan Barry-Schultz
April 23 – Laurie Kuntz
April 24 – Maryann Hurtt
April 25 – Yvonne Zipter
April 26 – Jess Parker
April 27th – Kelly Sargent
April 28th – Robbi Nester
April 29th – Laurie Rosen
April 30th – James Penha
May 1st – Oisin Breen
May 2nd – Jennifer Shomburg Kanke
May 3rd – Karen Paul Holmes
May 4th – Judy Kronenfeld
May 5th – Julie Weiss
May 6th – Nancy Botkin
May 7th – Jonathan Yungkans
May 8th – Gloria Parker
May 9th – Alfred Fournier
May 10th – Gloria Heffernan
May 11th – Carol Deering
May 12th – Alison Stone
May 13th – Annamaria Formichella
May 14th – Kenton K. Yee
May 15th – Joanne Durham
Previous NPM celebrations from Gyroscope Review
Let the Poet Speak! 2022
Promopalooza 2021
Poet of the Day 2020
Poets Read 2019
National Poetry Month Interview Series 2018
Book Links Party 2017
Other Links