We'd like to share the news of a new chapbook by Gyroscope Review poet Oisín Breen, Lilies on the Deathbed of Étaín and Other Poems. Steeped in the tradition of Irish poetry, Oisín weaves his way through folklore and the natural world with evocative imagery.
Introduction by Oisín
I've never been the best at précis, I must confess, but the long and the short of it is my work often errs towards the long-form and the experimental. My debut, Flowers, All Sorts in Blossom, Figs, Berries, and Fruits Forgotten, gathered largely rave reviews in several countries, and it is indeed of the experimental form. The work here continues that trend with a piece detailing from several perspectives and multiple temporal instances the wholeness of a life of a mother figure as she is seen by others in youth, age, and death.
The second piece in the manuscript is a sonic and formally experimental work addressing love, plain and simple, and I wrap the manuscript up with four shorter works, namely "Six Months Bought with Dirt: the Bothy Crop of Arranmore", which addresses Donegal migrant labour, and potato farming in Scotland, "At Swim, Two Pair", which details a group of psychologically traumatised ducks, "A Chiaroscuro of Hunger", an anti-love poem, in a sense, for it details an affair that did not happen, and "Even Small Birds Can Render Planets unto Ash," which describes the experience of watching puffins play, from the view of a boat.
Poem Previews
Lilies on the Deathbed of Étaín

I

All this ends with the hocking of soft skin in loose folds,
A solemn current of spooled ink,
A stuffed portent:
That elegiac parchment of cause and effect,
And rhapsody, where each stroke of the hand
Is delicate enchantment. 

Yet, like stripling vines in stupor, 
We wrest ourselves from a standing start, 
Only so as to glut ourselves, keening in the play of rustling air.

And, like children caught in first blush, 
At rush to gorge our nascent wanting,
We relentlessly feast on the contingencies 
That differentiate stone from stave.

But the salted oceans we pillage render up scant grain,
And illumination is in death, annihilation 
And the hard sense of knowing: 

	Curtain-fall and the committal. 

How I long then for the pure milk of the word;
How I long then for the fine yew of the wood;
A caress, wet with a tongueful of discarded apocryphae.

Though, as I imagine her, the softness and the hardness; 
The headiness and the fineness; 
Her eyes: age, writ in the bark of an unhallowed kindness 
Ground, too, in an Omertà of forgetting;

As I imagine her,
  she who was always the first; 
  she who was poisonous, bearing bright red fruit; 
Ioho, driving her crown unknowing into her wounds;

Ah Christ, 
As I imagine it – cleaved from her – 
This is the loss of plenty. 


Praise for the Author
"Oisin Breen is writing at a pitch few other poets of his generation can muster. The dynamism and control of register, rhetoric, rhythm, is consistently a marvel. These are tremendously exciting poems. The work here is strange and startling – you are never sure where you are, or what is coming next. The poems stretch on to widen the possibilities of what a poem can be. Yet there is a grounded authenticity and emotional surge to the writing. They sweep you up in their flow, in their swerves, in their arch playfulness, in their abrupt intensity. The effect is invigorating and deeply affecting. Lose yourself in these poems and you will not forget it."
– Alan Gillis, Poet, and Professor of Modern Poetry at Edinburgh University.
"Oisín Breen's collection honours the tradition of Irish poetry. He weaves lyrical beauty through mythology and nature, presenting compelling poems which are both intelligent and emotionally charged. A powerful and intense use of language challenges and delights. Breen harnesses the craft of imagery to impressive effect."
–Róisín Ní Neachtain, poet, artist, and editor Crow of Minerva.
About the Poet
Oisín Breen, 37, is an Irish poet, journalist, and academic, working in the field of narratological complexity.
A Best of the Net nominee, Breen is published in 100 journals, across 20 countries, including the Tahoma Literary Review, North Dakota Quarterly, About Place, New Critique, Northern Gravy, Reservoir Road, and the Madrigal. This collection follows Breen's well-received debut Flowers, All Sorts in Blossom, Figs, Berries, and Fruits Forgotten, published by HybridDreich in March 2020.
You can find Breen on Twitter: @Breen, and on Mastodon: @Breen@mastodon.ie.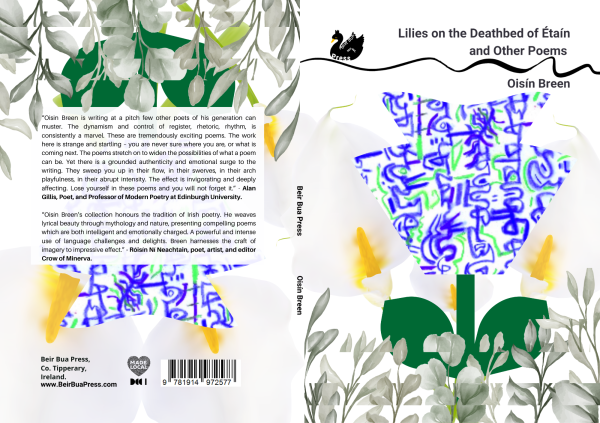 Find Lilies on the Deathbed of Étaín and Other Poems through Beir Bua Press
Other Gyroscope Review Book Reviews
Household Gods by Bonnie Proudfoot
Erotic by Alexis Rhone Fancher
Kind Chemist Wife: Musings at 3:00 a.m. by Sarah Bigham
Daphne and her Discontents by Jane Rosenberg LaForge
Moonglow on Mercy Street by John Biscello
The Only Light Coming In by Joseph Hardy