Joseph Hardy's poetry book The Only Light Coming In is a volume filled with reflections on relationships, some good, some bad, some still a mystery to the author. Hardy spends time to do introspection on the past in a way we are all familiar with, joys, regrets, and searing moments we'll never be able to get rid of. The overarching theme to "The Only Light Coming In" could very well be, pick yourself up and move on, no matter how painful it is.
In "After Divorce", we see two stanzas showing two sides of the same person, each warring for dominance.
After Divorce
 
It felt like dying
on the threshold of the world…
 
…giddiness expanding like helium
in a balloon, let go
Hardy speaks of the distances between people, what drives them apart, or pushes them together. Sometimes inner will, sometimes outer forces, the story is that of a life where people leave. It's the connections with strangers that make some of the poems worth savoring. Hardy looks at outsiders as guests in his life, rather than aliens. He has empathy for the other.
The Girl at the Laundromat
 
…she comes here
fresh from feeling lonely at home,
 
where (sorry to say) she has no one,
but she's been reading that Persian, Rumi,
and thinking about his line
 
that we don't find love by searching,…
Love runs through the poems in Hardy's book, whether it's broken interactions that fail to connect two people, mistakes that were made, or memories that change and shift depending on love at the moment. The last section of the book reminds us that we need to make our own way through the world, choose the path we want to take, or the choice will be made for us.
My favorite poem in the book is "As Long As There Have Been Storms." In its down to earth way, it sums up the depth of the book for me.
As Long As There Have Been Storms

…as long as there have been storms,
as long as people there to pick up pieces afterwards
to make a life out of ruin, build houses from it,
decorate their walls with ghosts and bones.
 
Rebuilding though is not enough.
We need acts of memory and love to sustain us.
This is a book to be read slowly, with reflection. I recommend it, especially for an evening in a comfy chair, with a cup of tea (or whiskey) by your side.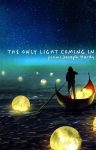 "The Only Light Coming In"
by Joseph Hardy
Bambaz Press – 98 pages
Purchase on Amazon
Other Book Reviews from Gyroscope Review Editors
Kind Chemist Wife: Musings at 3:00 a.m. by Sarah Bigham
Another View on Serving by Kari Gunter-Seymour (review by Constance Brewer)
Another View on Serving by Kari Gunter-Seymour (Review by Kathleen Cassen Mickelson)
Arclight by John Biscello
Blackbird: Poems by Laura Grace Weldon