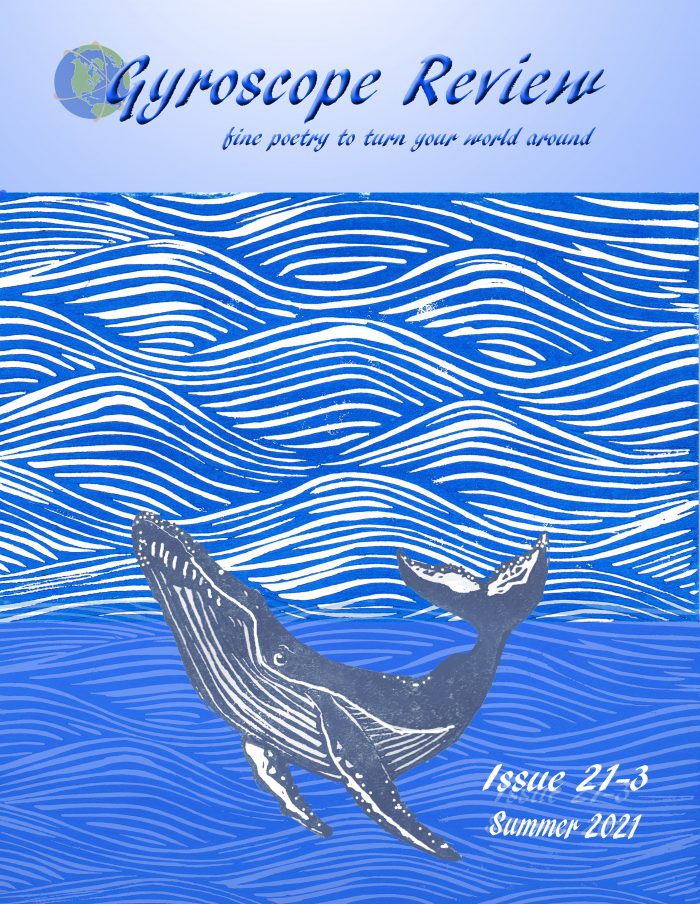 The Summer 21-3 Issue of Gyroscope Review is ripe with lush poetry, filled with sunshine and a few thunderstorms for your summer months. Summer 2021 poets include:
Alfred Fournier, Amy Moore, Antonietta Bocci, Beth Williams, Brandy McKenzie, Carol Edwards, Claudia Putnam, Connie Soper, David Dixon, Debbie Trantow, Diana Dinverno, Donna Hilbert, Ellen June Wright, Eric Fisher Stone, Fasasi Abdulrosheed Oladipupo, Garrett Phelan, GregNelson, Hayley Haugen, Jan Seagrave, Joan Coles, John Davis, Jon Yungkans, Judith Mikesch-McKenzie, Karen Greenbaum-Maya, Kristin Berger, Larissa Larson, Linds Sanders, Lindsay Rutherford, Marsha Lewis, Melissa Ridley Elmes, Miranda Rodriguez, Nancy Murphy, Nancy Cherry, Patricia Davis-Muffett, Patricia Frolander, R. A. Allen, Randy Mazie, Richard Taylor, Rikki Santer, Sandra Anfang, Sara Jeanine Smith, Shelly Holder, Spencer Sapienza, Susan Coronel, Toti O'Brien, Virginia LeBaron, Zeina Azzam.
Gyroscope Review Summer 2021 Issue available now.
Order a paperback version from Amazon, click HERE
To download a Kindle version from Amazon, click HERE
Order a paperback version from Amazon UK HERE
To download a Kindle copy from Amazon UK click HERE
As always, the PDF version is available HERE
Both paperback and Kindle versions are also available by searching for Gyroscope Review on the Amazon sites in the Europe, Australia, and elsewhere.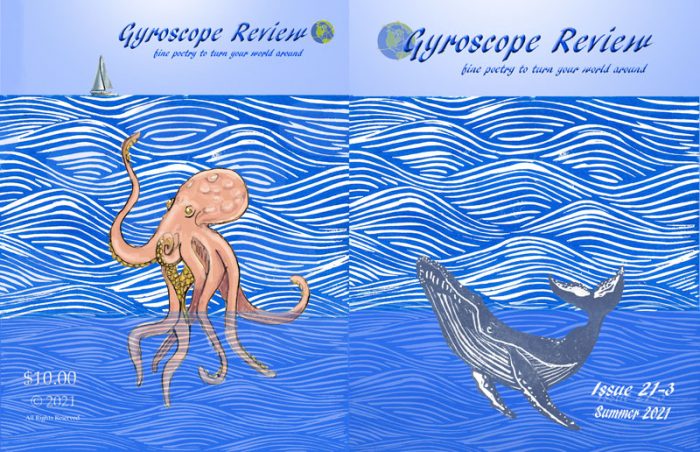 Submissions for Fall 2021 – The Crone Power Issue
Our annual Crone Power Issue for Fall 2021 is open to women-identifying poets over the age of 50 only. Send us your poems of what it's like to be a woman after the age of 50, the strengths, the invisibility, the complexities and joys. We want to let the world know the Crone has a lot to offer—if you listen.
Read the Guidelines, and Submit.