Each day in April, in honor of National Poetry Month and our third anniversary issue (find out how to get a copy HERE), we are running an interview with a poet who has been published in Gyroscope Review. Read on.
National Poetry Month Interview Series: Interview with Poet James Penha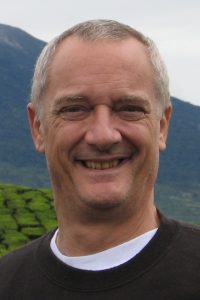 How will you celebrate National Poetry Month? I shall post a poem each day at TheNewVerse.News and work on a poem of my own each day . . . as I do every month.
Pen, pencil or computer first? If I'm at home, I'm right onto the computer. But at the beach or in the jungle or on the road (if I'm not driving) it's the notebook and pen in my pocket.
Who/what are your influences? Shakespeare's Hamlet taught me to love literature; Whitman, Dickinson, Ginsberg, Eliot, Crane, and O'Hara taught me to love poetry; Sharon Olds, Louise Glück, and Eileen Myles teach me how to write; every new novel and book of poetry I read inspires and motivates me to write something new.
What topic is the hardest for you to write about and why? I just wrote, after seventy years on earth, the first poem about my own death. That was hard to write. It's hard to read.
What was the worst writing idea you ever had? I thought I could capture a fourth dimension by using vast spaces (one or more blank pages) between lines to represent time passing.
What authors do you love right now? Joe Okonkwo, Andrew Sean Greer, Natashia Deón, Mohsin Hamid, Vivek Shanbhag, Phillip B. Williams
What is the most important role of poets in 2018? As the editor of TheNewVerse.News I believe that poets must speak, extrinsically or intrinsically, to and about the political, the economic, and the social realities we face in this nation and throughout the world. #Resist. 
Where do you go when you need to recharge? I live in a suburb of Jakarta, Indonesia. At sunset, almost every day, I go with husband and dog to a quiet lake in the middle of nowhere. When I really need to recharge, we drive (and ferry) to the Sumatran jungle to listen to the songs of the siamang gibbons. Poetry!
What is your favorite end-of-the-day drink? Ginger-turmeric-lemon.
James Penha lives in Tangerang Selatan, Indonesia. His recent poems online include "Lifetime Learning" at Linden Avenue, "Pre-Op" and "Rough Patch" on pages 47-48 of Geometry, "Selfie" at Postcard Poems & Prose, and "5 World Trade Center" from The Donut Book at the Eat This Poem website. Visit his website, jamespenha.com, or find him on Twitter @JamesPenha.