Each day in April, in honor of National Poetry Month and our third anniversary issue (find out how to get a copy HERE), we are running an interview with a poet who has been published in Gyroscope Review. Read on.
National Poetry Month Interview Series: Interview with Poet Ken Poyner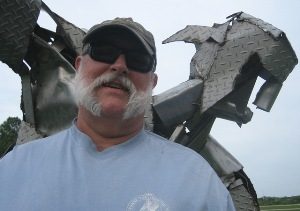 How will you celebrate National Poetry Month? Hopefully, by writing better and more.  Perhaps with an overnight trip to Chincoteague and its wonderful bookstore Sundial Books.
Pen, pencil or computer first? Pen and notebook for poetry, computer for fiction.  Occasionally, a piece of fiction gets into the notebook before it is remanded to the computer, but those are accidents of enthusiasm.
Who/what are your influences? I began writing based on accidentally finding the poetry of Randall Jarrell, which I treasure to this day.  A lot of my content is flavored by reading Asimov, Clarke.  Clarke's collection The Nine Billion Names of God drives me to this day.  I have a well-thumbed copy upstairs.  Poul Anderson's The High Crusade was an early influence.  The works of Gogol and Kafka, as well as of Camus, have influenced me greatly.  And I love live theater – Waiting for Godot has always been humming in the back of my essence, as well as other Beckett works.  I've seen Waiting for Godot in four different iterations.  My wife does not understand how anyone can do that.
What topic is the hardest for you to write about and why? Emotional maturity.  I work a lot with irony and maladaptation.  A comfortably emotionally mature character is alien to me.
What was the worst writing idea you ever had? Doing a novel.  I lack the clarity of thought, the breadth of imagination, or the single-mindedness of purpose to stick with a novel.  I prefer the pithiness of poetry and flash fiction.  I am actually seeking revelation in my audience, not understanding.  I don't want them to connect the dots – I want to hit them with the dot.
What authors do you love right now? James Tate, Charles Simic.  I'm reading a lot of non-fiction these days.  Recently finished a history of salt.  Fascinating.  Now I'm reading about bonds and the workings of the bond market.  The strength and weakness of any investment instrument lies in the complexity of the machinations professionals have created to wring value out of what starts off as a simple transaction.
What is the most important role of poets in 2018? To survive. Sales are being dominated by industrial production of cheap stories and novels. James Patterson, I'm told, does not even write his own books. Fifty Shades of Grey sold something like 23 million copies. It read like an eighth grader's interpretation of what he was seeing with backlight through a sheet. Poets are caught between an academic bent that at times sees publication only as a way to tenure, and a public that simply does not like poetry. The average small press poetry book sells less than 100 copies, including the 30 to 50 copies the author buys. It is nearly as grim for literary fiction. It is too easy to leave the public behind and, as one author noted, allow poetry to become simply a cult. I do not have the key yet, but I think we have to search for a way to reconnect with an educated public. We are not going to get back the "50 Shades" people, but we have to figure out how to get the attention of those who still on occasion value style and complexity. When I do the numbers, it looks like there is an English reading population of around 2 billion people. If 0.01% of them buy a book, that is 200,000 books sold. One reason I started Barking Moose Press, LLC, was to have flexibility in marketing and approach with my recent books. I did two books in the small presses and they were abandoned after publication. The role of the poet in 2018, and beyond, is to force engagement. Do what you have to do to be, as a poet, an important and vibrant part of the community. If you do not make the public look at you, they will waltz past and follow the lame and unreal prose of the next Fifty Shades of Grey.
Where do you go when you need to recharge? We take an overnighter either to the North Carolina Outer Banks, about 80 miles south; or over to Chincoteague, on Virginia's Eastern Shore, about 75 miles northeast. Only in the off-season, though. They are pretty deserted, you can get into substantive conversations with the locals, actually see the landscapes. Sundial Books in Chincoteague carries all four of my recent books, and they actually sell well there. The owner tells me I am one of his best sellers. But he does put sweat equity into selling my books, and I sell myself with the local business owners.
What is your favorite end-of-the-day drink? Rum and coke.  Not just any rum – Admiral Nelson's 101 proof rum.
Ken Poyner lives in Virginia Beach, Virginia. His most recent publication is Avenging Cartography, 55 bizarre mini-fictions (Barking Moose Press 2017). Visit his website, www.kpoyner.com, or the Barking Moose Press website, www.barkingmoosepress.com. He is also on Facebook, and is a contributing blogger at https://ogfomk.blogspot.com/.