We have plenty of news to share with you today: the Gyroscope Review fifth anniversary, a stellar spring issue, and a change to our masthead.
Gyroscope Review Celebrates Five Years of Publication
The spring 2020 of Gyroscope Review marks five years of publishing this journal, collaborating to bring you voices from far and wide, and refining how Gyroscope Review presents itself to the world. We are so proud of how things have turned out. And we are not just proud of the journal itself, but of the community we've fostered among poets and readers. You'll see examples of that for National Poetry Month right here beginning tomorrow.
Our Spring 2020 Issue
Our spring issue is gorgeous. Poets sent us so much thoughtful work that tapped not only into the essence of spring, but also renewal and concern for the world. It's a little eerie to realize these poems were written pre-pandemic but are still just what we need.
Here's a look at the cover: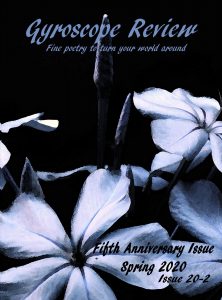 Celebrate the Gyroscope Review fifth anniversary with your own copy! We have a print version available HERE.
We have a Kindle version available HERE.
Both print and Kindle versions are also available by searching for Gyroscope Review on the Amazon sites in the UK, Europe, Australia, and elsewhere.
As always, our PDF version is available HERE.
Editor Kathleen Cassen Mickelson is Leaving
Now, about our masthead. This is Kathleen writing this post, so I'll shift into a different voice here. As co-founder of this journal, I've had a great time working with Constance Brewer to create a place for so many poets' voices. After five years, it's time for me to rotate off of the masthead as an active editor. Constance is staying put as the main editor of Gyroscope Review. Over the past several months, we've been lucky to add Elya Braden and Hanna Pachman as assistant editors who will move forward with Constance in continuing to bring you fine contemporary poetry.
As for me, I'm going to concentrate on my own work in creative nonfiction and poetry, a collaborative project or two, and my own site, One Minnesota Writer. I'd love to do some guest posts here in the future if it's okay with everyone else. In the meantime, please come visit me at One Minnesota Writer, especially if you have publication news of your own to share. I have a feature there called New Book News that I've just started up to share information about new books and chapbooks, and to offer another bit of community for writers and readers.
Thank you, everyone, for being part of the Gyroscope Review community, for reading and sending us work. Thank you for making these past five years an amazing experience. Here's to you.