After a long, lovely holiday break, we are back at work at Gyroscope Review. The best thing about January around here is the release of our winter issue, so here it is: the Winter 2020 Issue of Gyroscope Review is now available. Editor Constance Brewer had some board game fun with this issue's cover, and our new Assistant Editor Elya Braden worked through her first reading period with us. We were impressed with the sharp, political, still-hopeful work we received for consideration for this issue. Contributing poets include several names you will recognize: Ace Boggess, Alexis Rhone Fancher, Daniel Edward Moore, Nancy K. Jentsch, Martin Willitts Jr, and many others. But take note of the names here that you are seeing for the first time. One of our favorite things about Gyroscope Review is the way established poets and emerging poets coexist to offer up a well-rounded collection of work. So snuggle into whatever warms you up this winter and open up a copy of our Winter 2020 Issue.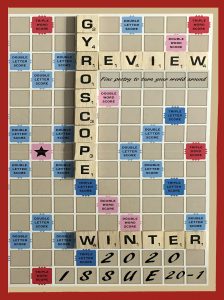 To order a print copy from Amazon, click HERE.
To order a print copy from Amazon UK, click HERE.
To order a Kindle version, click HERE.
As always, a PDF version is available HERE.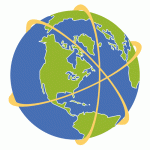 We hope you've noticed our new logo! A new decade is the perfect time to spiff things up, so we did. Not only that, but we've also acquired another Assistant Editor for our masthead: Hanna Pachman, a poet, filmmaker, and senior research coordinator at Variety. You can find out more about Hanna on our masthead page, HERE. She will be reading submissions with us for our Spring 2020 Issue.
Curious about what we want for our next reading period? Here's a tip: that will be our fifth anniversary issue, so consider submitting poetry based on the number 5. We'll be posting trivia about the number 5 throughout the reading period. Or consider anniversaries in general, not just marriage, but everything under the sun, divorce, dental appointment, first ice cream, 'Gotcha Day' for a new pet, or how about the day you set yourself free from something momentous? As always, please read our guidelines HERE.