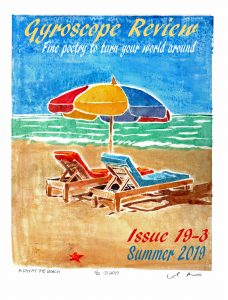 Gyroscope Review Issue 19-3 is now available and ready to go to the beach with you. The cover, produced from a woodcut by our own editor Constance Brewer, flaunts its beachy-ness, begging you to grab your flip flops, a cooler full of something good to drink, and head to your favorite summer spot for some time alone with this season's collection of poems.
Authors in this issue include Steve Anderson, Micki Blenkush, Carol L. Deering, Ginger Dehlinger, Michael DeMaranville, Renée Christine Ehle, Art Elser, Jennifer Gauthier, Ruth Gooley, Charles Grosel, Joseph Hardy, Nicholas Alexander Hayes, Laura Johnson, Elizabeth Jorgensen, Babo Kamel, Kate Kearns, Maureen Kingston, Sandra Kohler, Olga Livshin, Jenica Lodde, Kendall Mallon, Bonnie Lini Markowski, Nate Maxson, Ashley Memory, Daryl Muranaka, Karen Whittington Nelson, Hadi Panahi, James Penha, Alex Pickens, Ren Pike, Peter L. Scacco, Claire Scott, John Sierpinski, Travis Stephens, Laurel Szymkowiak, Lillo Way, Diane Webster, Laura Grace Weldon, Hannah Yerington, Mantz Yorke, and Mariel Yovino.
You may purchase a print copy HERE.
You may purchase a Kindle version HERE.
And, as always, you may access a PDF version HERE.
Our fall issue reading period also opens today. Our Fall 2019 Issue will be a special issue: The Crone Power Issue. Submissions are limited to poets over 50 who identify as women. For this special issue, we seek work that examines what it is to be a woman over 50 – one's power, dreams, contributions. We want work that thinks beyond the usual and celebrates wise women, crones, matriarch, elders, strength, experience, the end of child-bearing. If you are not a poet over 50 who identifies as a woman, please do not submit for our fall issue. We will resume regular submissions for all with the winter 2020 issue.
You may find the full guidelines for the fall issue HERE.