We are pleased to offer our Poets Read series in honor of National Poetry Month 2019 and will run it throughout the month of April.
Every day in April, our website and our YouTube channel will feature the voice of a poet whose work has appeared in our pages over the past year. On Sundays, we will offer two poets for your enjoyment.
Today's poem is Ruth by S.A. Leger and it appeared in the Spring 2018 issue of Gyroscope Review.

Ruth
 by S.A. Leger


 Our planet, a Gnathostome, gaping jaws of the Earth
 ripped open on the hinge-side—this interrupted by gentle
 gurgling hot sulfur water—to reveal the mantle's tongue.
 Balancing on that palate: several deciduous trees, see
 how they, chopped at the hairline, leave a woodblood stain
 leave sawdust and chips and battered midrib leaves evermore

 evermore evermore and then a "Hey!" off the walls of the evermore
 canyon. Our planet, like a jagged thumbnail ticking through earth
 child's flipbook, skip a page, skip an era, ignore the stain
 all the trees. She appears, Ruth, the passive gentle
 woman, her bottom corked and squeezed, so that you cannot see
 her toes, under glass; she has her own thoughts, her tongue

 brain remembers, lopped off at the hairline, phantom tongue.
 Ruth is rooted like a tamarack. All spread out, evermore
 acidic fen, acidic bog, back again, just the surface—can she see?
 Ouray, a gaseous sunchild, burping and gurgling from Mother Earth
 vomits wretches spits until she's mad, fumes, exudes a cautious
 wisp of smoke, a settler's town, chewing-machine with stained

 lips, fragments of other towns, boluses digested, protruding blemishes,
 precursors to 2x4's. Ruth has skin like rough-cut lumber, a tongue
 like primal memory. Ruth comes from hardy stock, she's too gentle
 now. Lost: hagfish vertebral elements, please contact…one forevermore
 imprisoned to leak from the foundations of ghost town cabins, earth
 fleas, consumed by Ouray. If she had eyes like a fly, she could see

 the women, pioneer bonnets and all—what they were to become—see 
 Yellow-bellied Sapsuckers & Yellow-bellied Marmots, tinged
 downy feathers & oral pelage, respectively, undeserved of Earth?
 Ruth can sense a lie. Never tell a soul, for God's sake. Her vernacular
 does not include the impropriety of those kind of women. Evermore
 evermore evermore Poe's Lenora rattling around inside her gentle

 frame, velvet-soft neural tissues barred up tight by the delicate
 folds of lacy slips. Having never met Ruth, new sulfur sees
 how seeping mantle, blaspheming magma, hardening evermore
 into the grooves, tectonic titans—Ouray in the middle—blackened
 dust that Ruth wipes up, can silence and redact redact redact her tongue.
 Forget the part where she moves from California. She's of the Earth.

 Ruth has the tentacles of a mother, gently suctioned to a sheet of earth—
 see how she strains, perspires—her anemia, a sunburn, pressed white tongue
 evermore as good as gone. Ruth is afraid of gods. Evermore, besmirched.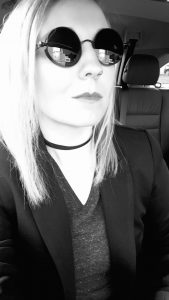 About the Poet: S.A. Leger is a biologist and writer living in St. John's, Newfoundland. Her poems have most recently appeared in Gyroscope Review, Pointed Circle, River Heron Review, and Mantra Review, among others. She is currently wrapping up her first book of poetry. She teaches at Memorial University of Newfoundland.