We are pleased to offer our Poets Read series in honor of National Poetry Month 2019 and will run it throughout the month of April.
Every day in April, our website and our YouTube channel will feature the voice of a poet whose work has appeared in our pages over the past year. On Sundays, we will offer two poets for your enjoyment.
Today's poem is Let Ornithology Call the Day by Nancy Austin and it appeared in the Fall 2018 issue of Gyroscope Review.

Let Ornithology Call the Day
 by Nancy Austin


 A phoebe awakens me on Monday. 
 Phoebe. Phoebe? Phoebe. Phoebe?
 I'll stop questioning everything.

 An eastern towhee on Tuesday. 
 Drink your tea, drink your tea.
 I'll sip jasmine on the sun porch.

 A robin on Wednesday.
 Cheer-up cheerily, cheer-up cheerily.
 I'll release yesterday's funk.

 A hermit thrush on Thursday.
 Here I am right near you.
 I'll sort the photos in the shoebox.

 A crow calls on Friday.
 Caw, caw, caw.
 I'll call back my friends.

 The ovenbird on Saturday.
 Teacher-teacher-teacher-teacher.
 I'll read Rumi today. 

 On Sunday, a mourning dove coos
 soft as my lover's sigh.
 I'll lay lilacs on his grave.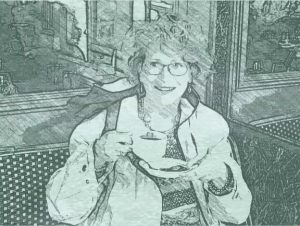 About the Poet: Nancy Austin was born in Whitefish Bay, Wisconsin, has lived on both coasts, but prefers the land between. She relishes time to write in the Northwoods. Austin's work has appeared in journals such as Adanna, Ariel, Gyroscope Review, Midwestern Gothic, Portage Magazine, Verse Wisconsin, Writer's Resist, the Wisconsin Poets Calendars and Zingara Poetry Review. She has poetry collections titled Remnants of Warmth (Aldrich Press/Kelsay Books, 2016), and The Turn of the Tiller; the Spill of the Wind (Aldrich Press/Kelsay Books forthcoming in 2019).