We are pleased to offer our Poets Read series in honor of National Poetry Month 2019 and will run it throughout the month of April.
Every day in April, our website and our YouTube channel will feature the voice of a poet whose work has appeared in our pages over the past year. On Sundays, we will offer two poets for your enjoyment.
Today's poem is Tell Papa by Ogwigi Ehi-kowochio Blessing and it appeared in the Spring 2018 issue of Gyroscope Review.

Tell Papa
 by Ogwiji Ehi-kowochio Blessing


 Ujunwa, have they told papa that,
 I am a story wrapped in a parcel,
 Held in place by a colourful ribbon of tears?

 Did papa believe them when they told him
 That I am the ashes of burnt dreams,
 Waiting to be whisked away by wandering winds,
 From the fireplace of broken ambitions?

 I know. Uju, I know that I am the shadow
 Of a lost wonder, tiptoeing through
 The thick forests of fears,
 Without a map to guide me home.
 But I hope this secret has not leaked from
 The lips of the gossiping evening wind-
 That sits by the window of papa's thoughts,
 Idling until the break of an unbroken day.

 Uju, regardless of what they've told papa,
 Tell him that I am the wandering smile
 He seeks in the wilderness of frowns;
 Tell papa that I am that 'female son' who
 Will put an end to the repulsive mockery
 Which trails men who have but daughters!
 

 


 

 Author's Note: Ujunwa, Uju for short is my fictitious sister. 
In reality, I am a daughter to a man who has five other daughters.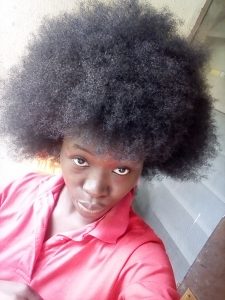 About the Poet: Ogwiji Ehi-kowochio Blessing is from Nigeria in Africa where she was born and raised by her parents. She is a final year student of Agriculture at the University of Ibadan where she writes articles and poems for the local press. Ogwiji is the winner of the 2017 Albert Jungers poetry Prize, among other writing awards. She blogs at www.eboquills.com.ng and her Facebook page is /ogwiji.ehi .