We are pleased to offer our Poets Read series in honor of National Poetry Month 2019 and will run it throughout the month of April.
Every day in April, our website and our YouTube channel will feature the voice of a poet whose work has appeared in our pages over the past year. On Sundays, we will offer two poets for your enjoyment.
Today's poems are She writes his name by Babo Kamel, which appeared in the Summer 2018 issue of Gyroscope Review, and Till the Fat Lady Sings by Leslie Smith Townsend, which appeared in the Fall 2018 issue of Gyroscope Review.
She writes his name 
 by Babo Kamel
 

 the handsome, entitled teenage boy
 mean as a blister, right smack
 in the middle of a poem.
 Both first and last, ensures no
 confusion. Poetic justice?
 Nothing slant about it. Just there
 naked on the page.

 I knew a boy like him
 wild in high school, all sex and smirk
 whom I half wanted, because although
 he seemed hard, his mouth was beautiful
 and though he seemed totally into
 himself, he was smart. Did I say his mouth
 was beautiful? 

 Trilingual, his lips would flirt words
 Think blueberry, bluet, or myrtilós
 such sounds of seduction, right there
 in the classroom. Oh, what secrets
 the tongue held in the cave of a mouth
 what longings resided between the teeth.
 How deeply we hid our crushes
 blushing through our teens. 

 Now imagine you're 15 again. You don't want to
 but you do. You should worry about a pimple
 on your chin or plan your monologue
 for drama auditions. Instead you wonder how 
 to explain for the rest of your life, the scars
 on your arm, that no matter how many times
 you cut the name of a shot boy into your skin
 he's not coming back.
 

Till the Fat Lady Sings
 by Leslie Smith Townsend


 You might learn something yet,
 you, my almighty daughter
 and you, my omniscient son.

 I haven't emptied myself 
 to fashion a future not my own—
 a dried out yellow husk,

 a dead or dying cicada.
 I live, breathe, create, 
 climb—Watch me!

 Won't you be surprised 
 when you look to the summit 
 of mountain, sky, and stars to see

 this woman you call, Mother.
 Cock your head up, not down;
 She's not in the ground, life over;

 She's flying—
 blowing you kisses from mid-air.
 

About the Poets: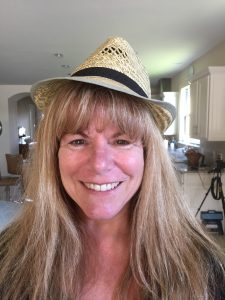 Originally from Montreal, Canada, Babo Kamel's poems have appeared in literary reviews in the US, Australia, and Canada. Some of these include Painted Bride Quarterly, Abyss & Apex, The Greensboro Review, Cleaver, The Grolier Poetry Prize, Contemporary Verse 2, Rust +Moth, Mobius, a Journal of Social Change, and 2River Review. She was a winner of The Charlotte Newberger Poetry Prize and is a five-time Pushcart nominee, and a Best of the Net nominee. Her chapbook, After, is published with Finishing Line Press. Find her at: babokamel.com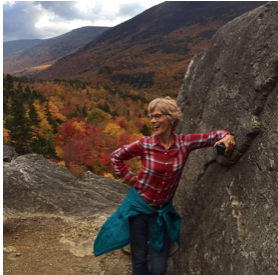 Leslie Smith Townsend is a poet, essayist, and memoirist whose work has been published inLEO, Journeys, The Louisville Review, Courier-Journal, Arable, Literary Mama, Christian Science Monitor,Friends Journal, Gyroscope Review, Metafore,and in the anthologies,Voices of AlcoholismandShow Me All Your Scars. She is a graduate of Spalding University's MFA in writing program. In addition, she has a Ph.D. in the psychology of religion. She is the recipient of the Betty Gabehart prize in creative nonfiction, a grant from the Kentucky Foundation for Women, a fellowship from the Vermont Studio Center, and a post-graduate fellowship from Spalding University's MFA in Writing.