We are pleased to offer our Poets Read series in honor of National Poetry Month 2019 and will run it throughout the month of April.
Every day in April, our website and our YouTube channel will feature the voice of a poet whose work has appeared in our pages over the past year. On Sundays, we will offer two poets for your enjoyment.
Today's poem is Tête-á-Tête at Trader Joe's by Gail Goepfert and it appeared in the Fall 2018 issue of Gyroscope Review.

Tête-á-tête at Trader Joe's
 by Gail Goepfert
 

 Tightly tucked petals of peony buds bobbed 
 in the plastic tub. I nearly missed them.  

 An older woman with a bright face stood in front
 of her walker holding a fistful of stems, and I backtrack

 sensing I've found someone else who crushes on them. 
 Do you know the secret to getting peonies to bloom? I ask.

 I've tried everything to resurrect the costly five stems 
 I purchased elsewhere. Try these, she says, and cut 

 the stems at the deepest angle possible, then put them 
 in room temperature water, not warm, not cold.
   
 As she describes the bounty of peonies in her yard, 
 her eyes light, but she's lost her husband, needs to move, 

 she knows she does, because she can't afford to stay, 
 and she's 84, and it's hard to be transplanted, 

 and her son's here somewhere, in from Philadelphia. 
 And finally I say I can't really buy any today 

 because I'm going out of town. I'll mind them for you. 
 Call me and tell me you're the lady in Trader Joe's, 

 and I'll remember, I will, and we stand in our own vortex 
 of bloom-love deciding which color to rescue, 

 the pale pink or the raspberry-sorbet. And I open 
 my phone and enter her name, Jane Horowitch, 

 she says, witch like the one on the broomstick. 
 Her son wheels up with his cart, and I move on 

 as I know he's likely to be troubled that his mother's 
 given her number to a stranger so I say goodbye. 

 And as I reach for pretzel bread and bananas 
 not far away I hear him say, No, and I hear 

 her reply, But I'll pay for them. I will. I'll pay.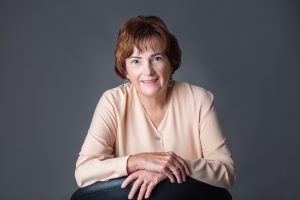 About the Poet: Gail Goepfert is an ardent poet, photographer, and teacher. Currently, she's an associate editor of RHINO Poetry and teaches classes online at National Louis University. Her story spans the Midwest in locations between the Mississippi River and northern Ohio, but her passion for travel is endless. She authored a chapbook, A Mind on Pain, released by Finishing Line Press early in 2015. A book, Tapping Roots, from Aldrich Press was published in early 2018, and a second book will make its way into the world in 2019, published by Cervena Barva Press. Publications include Blue Lyra, Crab Orchard and Jet Fuel Reviews, Minerva Rising, Found Poetry Review, Kudzu House, Switchgrass Review, Red Hill Paint Review, Pirene's Fountain, Concis, Room Magazine, Switchgrass, Red Hill Paint, Stoneboat, Beloit Poetry Journal, Kudzu Review, Open, Journal of Arts and Letters, and Rattle, and she's had four nominations for a Pushcart Prize. Her photographs appear online at the Chicago Botanic Garden, Olentangy Review, Storm Cellar, and 3Elements Review and on the cover of February 2015 Rattle. She lives, writes, and snaps photos in the Chicagoland area.