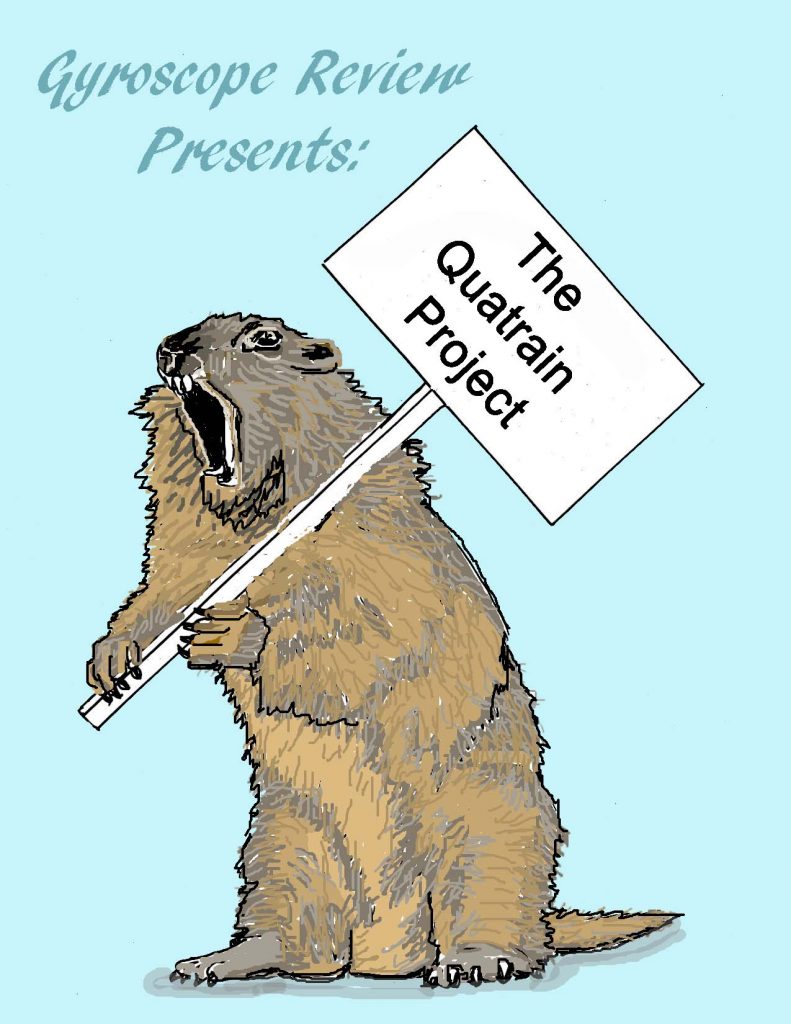 Welcome to our Quatrain Project in honor of the fourth anniversary issue of Gyroscope Review, which will be released in April 2019.
The Quatrain Project is a collaborative effort in which we invite you to take part. How do you do that? Simply add a line to the ongoing poem by typing it into a comment below and make sure that your full name is shown in the comment so we know who you are.
One comment per person, please. We want to give as many people as possible a chance to participate during the month of February. On February 28, we will close the comments and see what we have. All the lines will be divided into quatrains, in the order in which they appear, because a fourth anniversary issue deserves a poem that honors things in fours, right? Editors will round out the end of the poem to complete a final quatrain if necessary.
Then what will happen with this giant collaborative poem? We will publish the final result in our fourth anniversary issue! (That's why we need your name.)
To get things rolling, the editors of Gyroscope Review have collaborated on the first quatrain, shown below:
Your obituary in the NY Times twice mentioned rhododendrons

 as if to tell the world that you too planted roots in the Appalachian rust
 
and found ways to bloom over and over again, made your own luck
 
hard as the gritty dirt encrusting ten year old boots and new laces 

(now you, readers and poets, take it forward!)
UPDATE AS OF FEBRUARY 28: COMMENTS HAVE NOW BEEN CLOSED. THANK YOU TO EVERYONE WHO PARTICIPATED IN OUR GIANT COLLABORATIVE POETRY EVENT! WATCH FOR THE RELEASE OF OUR APRIL 2019 ISSUE ON APRIL 1.