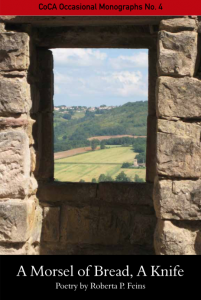 A Morsel of Bread, A Knife
by Roberta P. Feins
Center on Contemporary Art
Occasional Monograph Series
84 pp., $18.00
Of all the topics poets tackle, the topic of the mother-daughter relationship ranks high on the scale of interest. Writers endlessly probe memories, conversations, events, inherited traits and objects, rights of passage. Mother, our first goddess, holds power over us for our entire lives. Even after she's gone. Even after we think we've moved on.
Roberta P. Feins' collection, A Morsel of Bread, A Knife, offers a series of images and moments that evolve from her connection to her mother and her mother's connection to Feins' grandmother. The poems weave pieces of each woman into the family tapestry, with each woman's differing values and sensibilities glinting in the fabric. Artwork and travel overlay their significance within the family narrative, satisfying the narrator's hunger for beauty in this world. The work raises the questions of what it is to be a mother, to not be a mother, to reclaim the self and walk away from pre-determined definitions of womanhood. The work goes beyond family history as that which shapes us in the beginning to the inevitability of our own paths into territories of our own choice. We move into a place where we let the voices of childhood fall to a whisper as we raise up what we know fulfills our deepest selves. And in that place, we find our own peace.
The thirty-nine poems in this collection dedicated to the author's mother are divided into four sections: The Mother Country, Paysage, The Bitters, and Winter's Bargain. The first section begins with the question of where sustenance might be found in, "The Cuisine of the Mother Country":
My Romanian grandmother made mamalige —
pouring out a coarse yellow moon of cornmeal
onto a wooden board. I never tasted
this polenta from my mother's hands.
The reader is immediately faced with complicated history and longing, food and love sought after from the start, as well as the sensory details that are part of every poem in this collection. Something as simple as polenta illustrates the connections of three generations. Placed between the sections are collages, both of the author's own making and those of two other artists, offering another layer of imagery for the reader to consider. Feins' understanding of visual art and her use of the language often reserved for that field make these poems explode in the mind's eye. Feins demonstrates an ability to wield line breaks and caesuras at the perfect moments for heightened emphasis. Readers can see things clearly as they move from grandmother to mother to daughter, from New York to France and beyond. Feins' understanding of feminism, the definition of the feminine from preceding generations to now, is also illustrated in stark terms as the daughter in the poems accepts that she will have no children of her own. Through it all, she never leaves behind the connection to the mother-daughter dynamic with its complicated gifts and frustrations. Several poems place the reader in front of famous pieces of art, while the mother remembers bits of what came before, as in, "Mother Muses at the Louvre – The Annunciation":
Which aunt emptied the closet,
which uncle moved the double bed?
I lost faith, no longer worshipped.
Occasionally, the character of Aunt Sylvia shows up with sharp words for the daughter. In, "Aunt Sylvia's Advice, 1971," Aunt Sylvia cracks words like a whip to make the daughter behave after she has a fling:
Keep this up,
you're wavin' bye-bye to your family.
Aunt Sylvia's appearance brings up the way older women might resent a younger woman's definition of femininity when it goes against the norm, how it might threaten their own sense of balance versus missed opportunities. An aunt can say things a mother cannot or would not. An aunt can open old wounds, change how the picture looks. In another piece, "Kaffeklatsch," the way aunts talk to each other in front of children has just as much chance of wounding as a direct conversation:
Minnie sniffs Yes, but she's a liar,
as bad as her mother! Behind me,
they begin another round. And what about

her brother? I've always said
with that blonde hair, 
Bertie can't be his father's son.
But, ultimately, this is the daughter's path, the daughter's interpretation of history, and the daughter's search for answers that make sense. 
In all, A Morsel of Bread, A Knife, is a complex, rich read that will perhaps nudge readers to remember the sensory details that make up their own complicated histories, and how lovely and bitter it all is.
For more information or to purchase a copy of A Morsel of Bread, A Knife, click HERE.