We hope your summer is going swimmingly. Ours just got better now that the work on our Summer Issue is complete. This issue makes us happy for a lot of reasons: great poets who share their work with us, a cover that showcases a white line print done by our very own Constance Brewer, and a nice new font to give us an updated look. The issue has a summer feel from start to finish, with poems that evoke the pleasures of the season: skinny dipping, filmy dresses, canoeing, gardening, travel. There are other topics addressed between summer moments, too, and we hope you get a copy of this issue as soon as possible so you can see for yourself. Pour yourself something cold to drink, take off your shoes, and settle into a nice hammock with our print edition. Or, if that's not in the budget, you can find a PDF version on our Issues page on this site.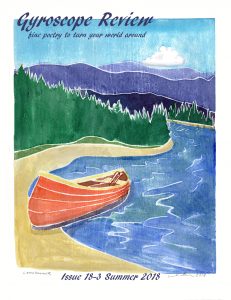 While you're settled in your hammock, you might find a moment to consider whether you have any work of your own you would like to send out into the world. Are you a contemporary poet? Submissions for our Fall Issue are open July 1 – September 15, or until we have enough submissions to fill an issue. This is a new way for us to take submissions; once the issue is full, we will close submissions even if it's not quite September 15 yet.
Why the change? We've seen an increase in submissions this year. Because we have a small staff, we have to be smart about how we manage to get everything read and evaluated in a fair, reasonable way. After a couple of reading periods that found us scrambling to get everything done at the close of submissions, we decided a change was needed. And this is it. So, get your submissions in early if you want a space in the fall issue and any issues after that.
There is one more bit of news about  our Fall Issue.  We decided to open a themed category alongside our regular submissions. The theme is The Crone. If that puts images in your head of an old witch stirring stuff in a cauldron, let us gently move that idea out of the way. Here's what we are thinking: Women poets over the age of 50 are underrepresented in poetry publications. But they shouldn't be; women over 50 have a breadth and depth of experience, knowledge, and wisdom to celebrate. So we want to hear from poets who identify as women and are over 50. We want you to shake things up, make us rethink your demographic, let us share your magnificence with the world. Same rules apply here for submissions; the category will close when the issue is full or on September 15, whichever comes first.
Happy submitting! But first, happy reading.