Each day in April, in honor of National Poetry Month and our third anniversary issue (find out how to get a copy HERE), we are running an interview with a poet who has been published in Gyroscope Review. Read on.
National Poetry Month Interview Series: Interview with Poet Linda Wimberly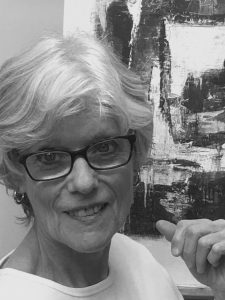 How will you celebrate National Poetry Month? By attending readings and writing and reading more poetry! 
Pen, pencil or computer first? Pen.
Who/what are your influences? Mary Oliver, first and foremost. But also Anselm Hollo, Jason Reynolds and Emily Dickinson. Current events and books inspire my writing, and I often choose difficult subjects when writing poetry. 
What topic is the hardest for you to write about and why? Abuse, but I'm finding that I can detach and write about it without being emotional. 
What was the worst writing idea you ever had? Submitting before the poem or essay was ready.
What authors do you love right now? Patti Smith, Michael Connelly, Neil Gaiman, Jessica Bruder, Rupi Kaur, Sonja Livingston, Jason Reynolds, Stephan Zweig.
What is the most important role of poets in 2018? To draw others into the world of poetry.
Where do you go when you need to recharge? Kennesaw Mountain National Park.
What is your favorite end-of-the-day drink? Beer.
Linda Wimberly lives in Marietta, Georgia. Her most recent publication was an art image, Jazz Flavors, which was the cover art for Inscape Magazine, Vol. 42, 2017. Her most recent poetry publication was Holey, Holey, Holey in Gyroscope Review, Issue 17-2: Spring 2017. Visit her website at www.lindawimberly.com.