Each day in April, in honor of National Poetry Month and our third anniversary issue (find out how to get a copy HERE), we are running an interview with a poet who has been published in Gyroscope Review. Read on.
National Poetry Month Interview Series: Interview with Poet Laura Grace Weldon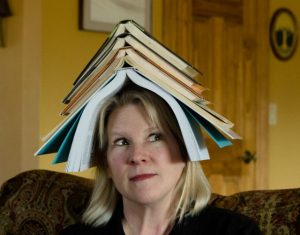 How will you celebrate National Poetry Month? Writing a daily poem and texting "done" to a poet friend who is doing the same. Also planning a reading for Ohio and Michigan poets who are in the new Poetry of Presence anthology. And seeking a publisher for my second poetry collection.   

Pen, pencil or computer first? Whatever writing implement is at hand. Sometimes that's a crayon or my phone.
Who/what are your influences? Trees, birds, sounds I can't place, science factoids, insomnia, angst, memory fragments, being alive at a strange time, awe.

What topic is the hardest for you to write about and why? My children, because I don't want to commit something to paper that might encroach on their privacy. 

What was the worst writing idea you ever had? Let me rummage around in the catacombs where so many horrible ideas are buried. Oh, here's one: signing a book contract and finishing the book (intended to be first in a series), only to have the publisher go out of business.   

What authors do you love right now? Here are a few of my long-time loves in no particular order: Alison Luterman, Kay Ryan, Sarah Lindsay, Ellen Bass, Tom Hennen, Linda Pastan, Wendell Berry, Joy Harjo, Naomi Shihab Nye, James Baldwin, Linda Hogan, Jane Hirshfield, Denise Levertov, Lisel Mueller, Carl Dennis, Dean Rader, Drew Dellinger, Louise Erdrich, Wislawa Szymborska, Tony Hoagland, Sonia Greenfield, Layli Long Soldier, Dorianne Laux, Li-Young Lee, Marge Piercy, Sharon Olds, Stephen Levine, Eloise Greenfield,  Kristen McHenry, Michael Meyerhofer, Joyce Sutphen.

What is the most important role of poets in 2018? Speaking their truth.

Where do you go when you need to recharge? Outside, preferably in the company of trees.
What is your favorite end-of-the-day drink? Red wine. Drinking is a literary cliché I gratefully embrace.
Laura Grace Weldon lives on Bit of Earth Farm, in Litchfield, Ohio. Her book Tending (Aldrich Press) available HERE; visit her website at lauragraceweldon.com. You can also find her on Twitter @earnestdrollery.