Each day in April, in honor of National Poetry Month and our third anniversary issue (find out how to get a copy HERE), we are running an interview with a poet who has been published in Gyroscope Review. Read on.
National Poetry Month Interview Series: Interview with Poet AJ Oxenford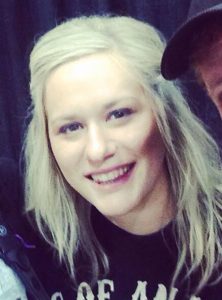 How will you celebrate National Poetry Month? I love to support my local bookstore, so I'm hoping to attend a poetry reading there. I also plan on buying a new book of poetry by a new poet that I haven't read yet. I teach at a local college, so I plan on bringing in a poem by a different author and reading it to each of my classes. That way, I can share the wealth and hopefully get others thinking about poetry. 
Pen, pencil or computer first? It all depends when a line comes to mind. I write a lot of the ideas that come to me in a note on my phone. Then, when I have some time, I take the lines to my computer and see what I can come up with. Sometimes the lines or ideas are nothing I can work with, but even those are useful; they make me go to the computer and try. 
Who/what are your influences? Poets Susan Aizenberg, Billy Collins, Erika Meitner, Weldon Kees. | My upbringing influences me sometimes more than I would like it to. I love to write about the rural landscape of Iowa. It's where I grew up, and it is what I know. It is also a subject that not many people know about firsthand.
What topic is the hardest for you to write about and why? The hardest topic for me to write about is the one I have been feeling drawn to the most: loss. I wrote a poem about my grandmother's death (she was my everything), and I ugly cried the whole time I was writing it. Now, even when I reread it, I still tear up, but I am so proud of it. I also find myself wanting to write poems about miscarriages. I've been doing research for my novel about the topic, and it has carried over into my poetry. 
What was the worst writing idea you ever had? Every idea feels like the worst one, at least at first. When I was in grad school, I began writing the novel I'm working on now, but instead of following my instinct of writing it in a novel form, I decided to try and write it as linked short stories. I struggled for a good year before I decided to switch the short stories into a novel. As cliché as it might sound, when I started listening to my characters, things started to flow. 
What authors do you love right now? Alafair Burke, Margaret Atwood, Billy Collins, Edith Wharton. I'm currently reading Little Fires Everywhere by Celeste Ng. 
What is the most important role of poets in 2018? I think it's important for poets to write what makes them uncomfortable. One of my goals for the year is to be a voice for the voiceless, both in my poetry and in my day-to-day life. 
Where do you go when you need to recharge? I go home. I sit on the couch, wrap up in my fuzzy fleece blanket, and watch a mindless television show on Netflix with my husband and our cats. As I'm writing this (I should be prepping for my Composition course), my husband sits on the other end of the couch laughing. Our tuxedo kitty is on my lap, and Hulk, our orange tabby, waits patiently for my lap to open up. I love home.  
What is your favorite end-of-the-day drink? If I could, I'd end each day with a glass of Moscato. Usually, it ends with a Diet Coke. 
AJ Oxenford lives in West Des Moines, Iowa. Her most recent publications include poetry published on Colloquial's website last October, and on Gravel's website last November. Find her on Twitter @ajoxenford or on Instagram @ajoxenford.