Each day in April, in honor of National Poetry Month and our third anniversary issue (find out how to get a copy HERE), we are running an interview with a poet who has been published in Gyroscope Review. Read on.
National Poetry Month Interview Series: Interview with Poet Jennifer A. Reimer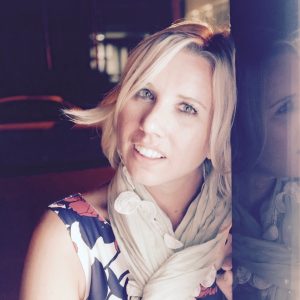 How will you celebrate National Poetry Month? I will be working on an essay about Tarifa Faizullah's collection, Seam and hosting a creative writing workshop in Graz, Austria.  And I've vowed to actually read each Poem-A-Day and Rattle:Poem email every day of the month 🙂
Pen, pencil or computer first? Pen (usually a cheap ballpoint I've "found" somewhere along the way and will lose two days later).
Who/what are your influences? I am deeply influenced by place and by history.  I am influenced by my teachers, mentors, friends and favorite writers: Lyn Hejinian, Elizabeth Robinson, Alfred Arteaga, Javier O. Huerta, Myung Mi Kim, Jack Spicer, T.S. Eliot, John Ashbery, Rae Armantrout, Rusty Morrison, Ben Lerner, Hugo García Manríquez, Heriberto Yépez.
What topic is the hardest for you to write about and why? I find it extraordinarily difficult to write poems that are overtly political. I struggle when the message carries more weight than the form.  In poetry, I work more comfortably with the elusive, slippery, shape-shifting, the absent or silent. I have not yet found a productive way to use those qualities to protest or dissent in ways that are clearly recognizable as political interventions.
What was the worst writing idea you ever had? Magical realism.
What authors do you love right now? Javier O. Huerta, Tarifa Faizullah, Elena Ferrante, Libba Bray, Elizabeth Robinson, Joseph Rios, Junot Diaz, Chimamanda Ngozi Adichie, Lyn Hejinian. 
What is the most important role of poets in 2018? To "speak" our truth to power (in all its manifestations, from the global to the intimate) fiercely and fearlessly while creating and enlivening compassionate community.
Where do you go when you need to recharge? Olympos and Kekova, on the southern coast of Turkey.
What is your favorite end-of-the-day drink? Port Askaig single malt Scotch whiskey, one ice cube.
Jennifer A. Reimer is a proud native Northern Californian, now living in Graz, Austria.  Her most recent publication in print is "Keşke XVI," in the 2018 Read Water anthology (Locked Horn Press); her most recent online work can be found at http://triggerfishcriticalreview.com/jennifer-reimer-markmandsgade-21-kobenhavn-s/. You can find Jennifer on Instagram (@jenniandreaca) and Facebook.