We are pleased to offer our Poets Read series in honor of National Poetry Month 2019 and will run it throughout the month of April.
Every day in April, our website and our YouTube channel will feature the voice of a poet whose work has appeared in our pages over the past year. On Sundays, we will offer two poets for your enjoyment.
Today's poems are Magic Lamp Semantics by Paul Edward Costa, which appeared in the Summer 2018 issue of Gyroscope Review, and Light of Newgrange at Winter Solstice by Mary Ellen Talley, which appeared in the Winter 2019 Issue of Gyroscope Review.

Magic Lamp Semantics
 by Paul Edward Costa
 

 You'll never hear sentences
                              so elaborately
                              and carefully constructed
 as the wishes now made to genies,
 so airtight
                  (filled with dashes and semi-colons)
 that they're immune to any cruel,
                                              ironic,
                                             "Twilight Zone" interpretations,
 leaving the occupants of magic lamps
                    brooding behind folded arms,
 nostalgic for an era
                           when well-wishers spoke carelessly,
                           so genies could openly engage
                           in the malevolent manipulations
                                     reserved for the gods.
 

Light / of Newgrange at Winter Solstice
 by Mary Ellen Talley

 I.
 my good works determine entrance 
 to the passage tomb / I traipse upon green sedge /
 so much wild tuft growing above kerbstones / my heart
 shimmies past carved crosshatches / my mother
 lets me trace and follow semi-circles / triple spirals 
 on smooth rock until I sleep / until shadows startle me / 
 I am not as awake as if I were a modern clock face / 
 human face / what is it about face that draws attention /
 I follow seasons / where gleanings / from my pagan history 
 know no sound reason for a virgin birth / for any 
 spinning dreidel / floating lantern / my future / but today

 I make toy rainbows / I make shadow play / 
 I make prisms on a dewy leaf / come out / come out /
 whatever is cast / recast / this is my megalith
 I work the sheer joy shaft of shine /
 no matter how doubtful / they will count my days /
 add me to a calendar / I watched stout folk pull 
 heavy stones / along the River Boyne / 
 my mother said my red hair was born of sun
 and moon / I was born on the longest night / 
 I make the year into a circle / light to light / 
 dust to dust / crust of the earth turns pale 
 under my toes / my mother's trust / entrusted to me / 
 I go barefoot upon cairns / without dislodging any stones / 
 I know / I am / unknown / I follow the procession 
 into the sanctuary / and wait for my birth

 II.
 no matter  
 that some settling 
 has occurred
 these five thousand years
 I shine / I shine /
 and here I am /
 I pierce the light box /
 I am the certainty of a cupped circle /
 whatever it holds inside hands /
 I make the earth's round lips 
 say / Oh
About the Poets: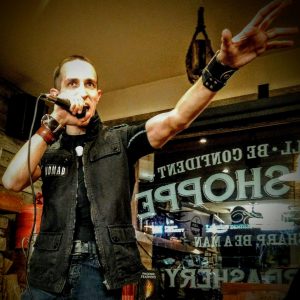 Paul Edward Costa is a Canadian writer, teacher, and spoken word artist who has published over fifty stories, articles, and poems in publications such as Brick Books, Crack the Spine Literary Magazine, Inside the Bell Jar, Alt-Minds Literary Magazine, Entropy Magazine, and REAL: Regarding Arts and Letters; his novella Dark Magic on the Edge of Town was put out by Paperback-Press. As a spoken word poet, he performs regularly at many poetry reading series in the Greater Toronto Area. 
Mary Ellen Talley's poems have recently been published in Raven Chronicles, U City Review and Ekphrastic Review as well as in anthologies, All We Can Hold and Ice Cream Poems. Her poetry has received two Pushcart Nominations.