We are pleased to offer our Poets Read series in honor of National Poetry Month 2019 and will run it throughout the month of April.
Every day in April, our website and our YouTube channel will feature the voice of a poet whose work has appeared in our pages over the past year. On Sundays, we will offer two poets for your enjoyment.
Today's poem is Nightfall by Marian Kaplun Shapiro and it appeared in the Winter 2019 issue of Gyroscope Review.
Nightfall
 by Marian Kaplun Shapiro


 Darkness is
     an invitation to
          the tunnel of maybe
          
 to the promise of
      unknowing, to re-
          arranging the filaments
 

 of glass in the
      kaleidoscope
            according to the in-
 

 visible anatomy of
     shadows.  See how
           the setting sun,  lighting
 

 our way with gold, calls us 
     every afternoon
           to the ghostly realm
 

 of evening, of night time
       waltzes without meter,
          prayers without words,
 

 songs without pitch.
      Mysteries. What ifs.
           Dreams. Another.
 

 another and 
      another morning.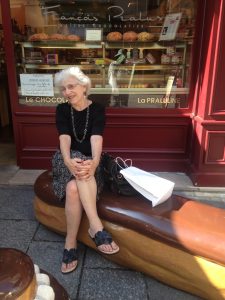 About the Poet: Marian Kaplun Shapiro is the author of a professional book, Second Childhood (Norton, 1988), a poetry book, Players In The Dream, Dreamers In The Play (Plain View Press, 2007) and two chapbooks: Your Third Wish, (Finishing Line, 2007); and The End Of The World, Announced On Wednesday (Pudding House, 2007). A Quaker and a psychologist, her poetry often embeds the topics of peace and violence by addressing one within the context of the other. A resident of Lexington, she is a five-time Senior Poet Laureate of Massachusetts. She was nominated for the Pushcart Prize in 2012.