Happy National Poetry Month!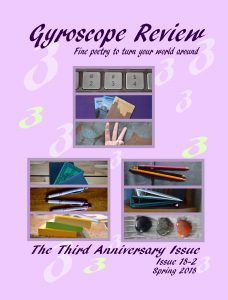 We are excited about today because not only do we kick off a month of interviews on our website in honor of National Poetry Month, but also because our third anniversary issue is now available. Our Spring 2018 issue, the largest single issue we've ever produced, has a special themed section of poems in response to our call for poetry on the topic of "threes". We are crazy proud of this big fat issue. You can purchase a print copy HERE, a Kindle version HERE, or find a free PDF version HERE. Hey, there is another set of threes. We just cannot ignore that wonderful number.
All funds from the purchase of print or Kindle editions helps fund Gyroscope Review's website and submissions system.
We hope you love this new issue as much as we do. And we hope you show some love to the 30 poets, all of whom have been published in Gyroscope Review's pages over the past year, featured here on our website during the month of April. We'll showcase one poet each day. Read on.
National Poetry Month Interview Series: An Interview with Poet Laura E. Hoffman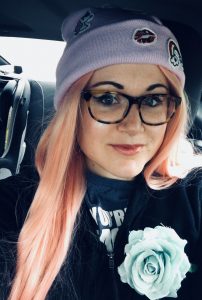 How will you celebrate National Poetry Month? I think I'll most likely try out different poetry prompts. I don't write from prompts very frequently, but when I do the results are always unexpected and exciting.

Pen, pencil or computer first? Pen, lipstick on a mirror, computer.

Who/what are your influences? Anne Sexton, Edwin Arlington Robinson, Sylvia Plath, and Robert Frost.

What topic is the hardest for you to write about and why? Love! Everything seems so overdone and cliche.

What was the worst writing idea you ever had? I wrote a full length novel in three months and expected it to be published. I honestly had barely even edited it. It did not get published.

What authors do you love right now? Mark Twain and Marlon James!

What is the most important role of poets in 2018? To perpetuate the love of poetry.

Where do you go when you need to recharge? My woman cave! It's like a man cave, but with more clothes.

What is your favorite end-of-the-day drink? Lately, herbal tea!

Laura E. Hoffman lives in Jacksonville, Florida. Her most recent work appears in the Winter 2018 issue of The 2River View . You can find out more about her work on Facebook,  https://www.facebook.com/laura.e.kelly1.