We are pleased to announce that we have assembled all of our 2017 issues of Gyroscope Review in one place.
Wrap This Up: The 2017 Issues is available now on Amazon as either a print version ($20 plus shipping; free shipping with Amazon Prime) or a Kindle version ($9.99).
We are proud of our 2017 contributing poets and hope you want to read them all again in this collection. We are pretty sure this is the best holiday gift ever.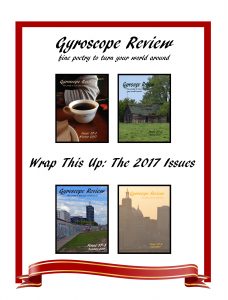 Thank you for reading!