We are pleased as can be to offer our latest issue of Gyroscope Review for your reading pleasure. This issue offers several thoughtful reactions to the state of world affairs as well as pieces that provide respite. Poets tackled difficult topics, teased apart what is sold as fact, and gave us poetry that shows just how engaged, enraged, and enlightened literary artists can be.
The poets included in this issue are:
Linda Baldanzi
Ace Boggess
Michelle Brooks
Yu-Han Chao
Barry Charman
Dan Darrah
Holly Day
Michael Wayne Friedman
Marissa Glover
James Graham
Lois Marie Harrod
Sue Howell
Jeff Jeppesen
Oonah Joslin
Mike Jurkovic
Stepy Kamei
Charles Kell
Steve Klepetar
Sandra Kohler
Susan L. Leary
Jenny McBride
Ashley Memory
Lyndi Bell O'Laughlin
Ken Poyner
A.R. Robins
Claire Scott
Mary Sesso
Marian Kaplun Shapiro
T.J. Smith
Sarah Dickenson Snyder
John Vanek
Sally Zakariya
To read this issue online, click on the cover below below. This PDF version may also be downloaded into your iBooks app if you have one.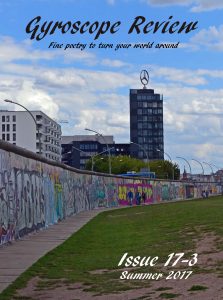 GYROSCOPE REVIEW ISSUE 17-3 SUMMER 2017
We hope you will consider buying a print version of our summer issue. Just think: you don't have to charge it or plug it in, just open the pages. Linger. Enjoy. Think. Perhaps respond in some way.
A print copy can be purchased through CreateSpace at https://www.createspace.com/7293869 or CLICK HERE.
You can also find us on Amazon.com and Amazon.uk. Just search for "Gyroscope Review fine poetry" and any issues, past and present, that are available as print copies, should pop up. In fact, you can CLICK HERE for our search results. (For digital back issues unavailable in print, please CLICK HERE.)
If you care to engage with others who read Gyroscope Review, visit our Facebook page and start a conversation. Find us on Twitter. We're on Instagram, too. Poetry can be the spark. Let it burn brightly.