OUR SPRING 2017 ANNIVERSARY ISSUE IS HERE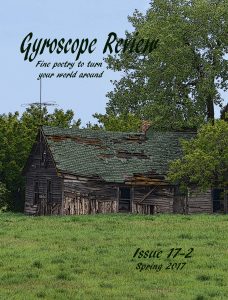 We are pleased to announce the publication of our second anniversary issue. You may purchase a print copy for $8.00 plus shipping from CreateSpace here. The spring issue will also be available on Amazon (including Amazon UK) shortly. If you have Amazon Prime, you won't have to pay shipping!
If you would like to read this in digital form, then this PDF is for you: Gyroscope Review Spring 2017 Issue 17-2.
For past issues of Gyroscope Review, please visit our Issues page.
SPECIAL OFFER TO KICK OFF NATIONAL POETRY MONTH
Editor Constance Brewer has a few words to share about a new book by poet Stuart Larner, which is being offered for FREE as a Kindle edition from Amazon UK  April 1-5 only (link here). Read on:
Stuart Larner has written an intriguing book of sonnets based around cars in all their glories and imperfections. These sonnets are each accented by illustrations—some pictures, some diagrams. I particularly liked the poem Across The Gap, which was an amusing way to convey how cars start, complete with labeled diagram. Emission Control was another poem that offered one idea on the surface, but moved a deeper turn at the end. There is no part of a car left untouched by Stuart's poetic wrench. I enjoyed seeing where each poem was going to go next. Fans of Shakespearean sonnets, mechanics, and those with a quest for some knowledge imparted along with their reading should enjoy this book.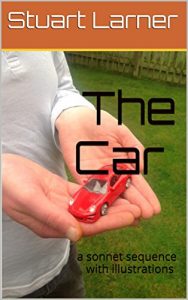 About Stuart: Stuart Larner is a chartered psychologist. He has published international articles and poems in magazines and newspapers, as well as in scientific journals. His books include Jack Daw and the Cat and Guile and Spin. With Rosie Larner he co-wrote Hope: Stories from a Women's Refuge. The Car is Stuart's most recent book. Find out more at http://stuartlarner.blogspot.com/.
BUT WAIT – THERE'S MORE – WE HAVE A BOOK LINKS PARTY TO GET ROLLING!
Last year for National Poetry Month, we had a book links party on our site in which we showcased book covers for poetry books published within the last year and links to purchase said books. We are planning to do this again for National Poetry Month 2017. If you have had a book published between May 2016 and now, please send us a 300-dpi (minimum) jpg of the cover with a link to the publisher's listing for the book, and we will post it. At this time, we are limiting our book links party to books that are not self-published. You may email us your book's information at gyroscopereview@gmail.com.
We will not be reviewing these books; these links are a service to our community to help spread the word about poetry.
Let's celebrate poets!