Check it out: Gyroscope Review editors Constance Brewer and Kathleen Cassen Mickelson are interviewed by Jim Harrington at his blog, Six Questions For….
We had fun answering Jim's questions. Hope you have fun reading our responses. Happy Friday!
Gyroscope Review is pleased to announce that we now have an option for you to subscribe so you never have to wonder when the next issue is ready. And the best news about that is that a subscription is FREE.
So, how do you get that free subscription? Go to our Joomag link and a pop-up window will ask if you would like to subscribe. You can say yes or no. If you subscribe, future issues will be delivered to your email inbox. It's that easy.
Give it a try. Let us make you happy with great poetry.
And check back here soon for a new contributing author interview. Happy August!
We are pleased to share our latest issue of Gyroscope Review, issue 15-2, for July 2015.
Our authors for this issue include American, Canadian, and British poets, writers with MFAs and without, previously published well-known writers as well as emerging writers, and old friends. And every single one of them grabbed our attention and held fast.
We can think of no better summer reading than this. Enjoy.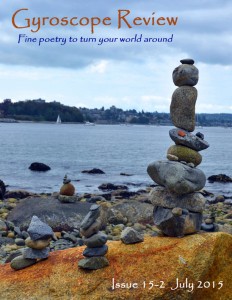 (Here is our PDF version for mobile phone and tablet users.)
All issues of Gyroscope Review are available here: http://www.gyroscopereview.com/home/issues/