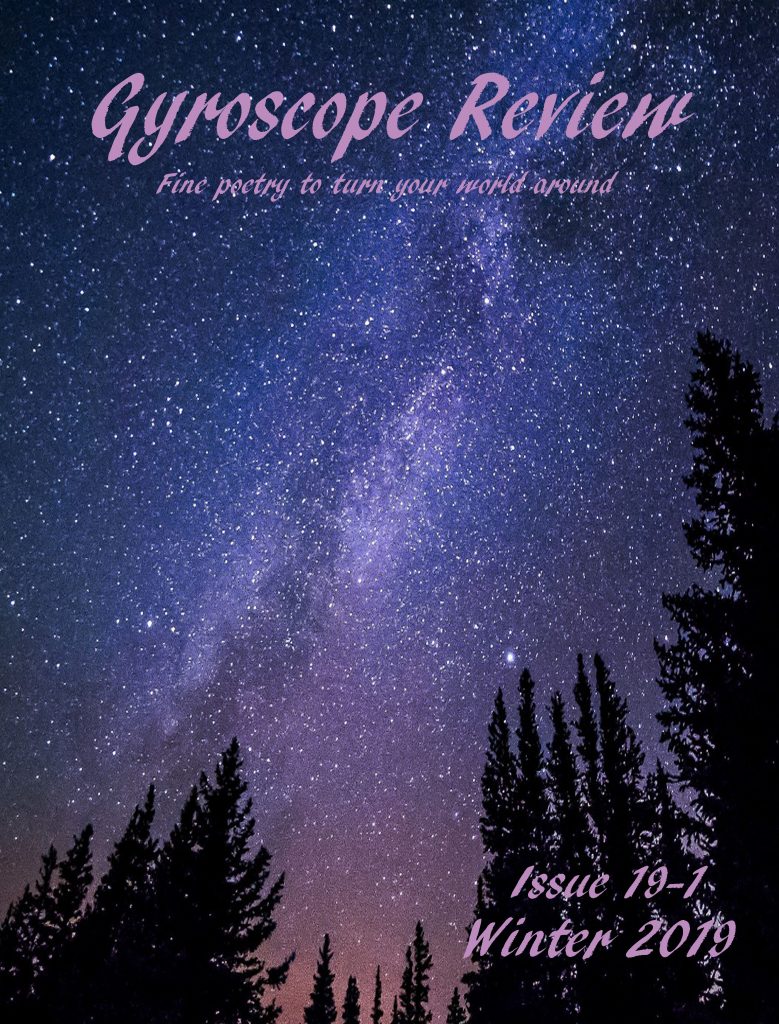 We are pleased to offer you the latest issue of Gyroscope Review, a collection of poetry to get you through the rest of the winter. Thirty-eight poets share their sharp, elegant snapshots of wintery landscapes, cozy spaces, important relationships, and those ordinary moments that unexpectedly shift our vision.
We offer both print and Kindle editions available through Amazon HERE.
We also, as always, offer our PDF version right here on our website, available HERE.
Come on back on Groundhog Day for an announcement! We are cooking up plans for both National Poetry Month and our Fourth Anniversary Issue.
In the meantime, submissions for our Spring 2019 (Fourth Anniversary Issue) are now open. Please read our guidelines for more information. Submissions may be sent to us through Submittable until March 15 OR until our spring issue is full.
Here it is halfway through October and I'm still wondering where summer went. This year seems to have gone swiftly. But one thing Gyroscope Review is doing slowly is adding more options for our readers. Months ago, we were proud to roll out a print edition for those of you that prefer the hands on experience. It involves extra time to create, but we think the end result is worth it.
This month we are also proud of our newest accomplishment. We now have a Kindle edition available for those of you that prefer an electronic version. I know I'm getting overwhelmed by books at my house, and have turned to electronic novels as a way of combating that. Sometimes the Kindle edition formatting leaves much to be desired, but it seems to have worked nicely for Gyroscope Review. Poems may take up two pages where in the print edition it's only one, but that's minor in the grand scheme of things. The print edition is in a large format at 8.5 in by 11 in. As always, the PDF version is available for computer, tablet and phone.
We are planning further changes in the upcoming months, including an overhaul of the website to bring you the freshest look and features. Gyroscope Review has come a long way from its humble beginnings, and we are excited about that. We are open to readers' suggestions. Hit us up on Facebook or Twitter and let us know your thoughts. A future poll is possible. Technology is a wonderful tool.
Meanwhile, we'd like our submitting poets to focus on the upcoming Winter issue. If you've got any poems about the 'underground', (a loose interpretation) send them our way. Also in our Winter issue we will be trying something different. See if you can spot the change. Hope to read your work soon.
Poetry is not Dead!
It's here! Our winter issue is now available – click on the link below the cover photo to read issue 17-1.
We are truly pleased to offer a diverse group of poetic voices and hope you find something that lodges itself in your head or your heart. We welcome poets new to us as well as old friends who never fail to make us think. Enjoy this first issue of 2017. Know what else? This is our very first edition that you can purchase in print! It's available on Amazon here.
We are also pleased to announce that, along with our regular submissions which are now open until March 15, we have a themed call for submissions in honor of our April 2017 second anniversary issue:
"Planting Ourselves" –  In the moving, transient world, how do you plant yourself? Do you plant yourself in place or are you a tumbleweed who scatters bits over a wide area? Are your roots shallow or deep? Are you a perennial or an annual? Must you be carried to a new place via a power other than your own? Dig deeply. Unearth your own gems.
The themed call for submissions honors our usual guidelines regarding previous publication and number of submissions, among other things. Please read the complete guidelines before any submissions, themed or regular.
Thank you for being part of the Gyroscope Review community of readers, writers, and poetry-lovers. We wish you all the best in this new year.