We did it again! Another issue completed and it's beautiful.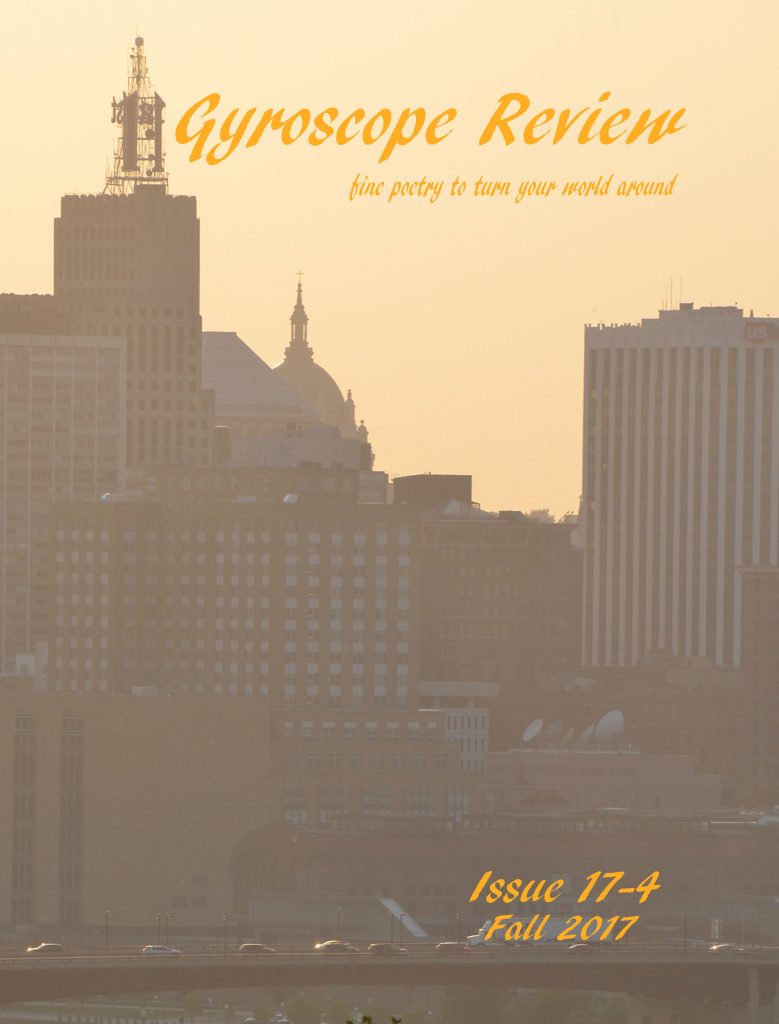 Our cover shot this time is of St. Paul, Minnesota, bathed in hazy golden light late on a September afternoon. Editor Kathleen Cassen Mickelson lives in the Twin Cities and is delighted that co-editor Constance Brewer, who lives in Wyoming, liked the idea of using this image.
More important is what's inside: 35 poets from a host of places who share images in words, craft reactions to the world as it is right now, remember other places and people, and ponder how life has turned out. These are strong voices and our pages are nearly bursting with their force.
Intrigued? Then find your favorite version of this issue below and read on. Share us with your family, your friends, your neighbors and co-workers.
We are here for you.
To purchase a print edition of Gyroscope Review Issue 17-4 on Amazon, click HERE.
To read a PDF version on any digital device, or to find our back issues, click HERE
Gyroscope Review print editions are also available on Amazon.
It's here! Our winter issue is now available – click on the link below the cover photo to read issue 17-1.
We are truly pleased to offer a diverse group of poetic voices and hope you find something that lodges itself in your head or your heart. We welcome poets new to us as well as old friends who never fail to make us think. Enjoy this first issue of 2017. Know what else? This is our very first edition that you can purchase in print! It's available on Amazon here.
We are also pleased to announce that, along with our regular submissions which are now open until March 15, we have a themed call for submissions in honor of our April 2017 second anniversary issue:
"Planting Ourselves" –  In the moving, transient world, how do you plant yourself? Do you plant yourself in place or are you a tumbleweed who scatters bits over a wide area? Are your roots shallow or deep? Are you a perennial or an annual? Must you be carried to a new place via a power other than your own? Dig deeply. Unearth your own gems.
The themed call for submissions honors our usual guidelines regarding previous publication and number of submissions, among other things. Please read the complete guidelines before any submissions, themed or regular.
Thank you for being part of the Gyroscope Review community of readers, writers, and poetry-lovers. We wish you all the best in this new year.
We are so pleased to release our fall 2016 issue of Gyroscope Review: The Honor Issue. In this issue, we've created a special section of 11 poems dedicated to the idea of honor. And we've nestled it in among 33 modern poems that explore a wide variety of topics that affect us all. We've included work from inside and outside the United States, including work from Canada, England, Scotland, and New Zealand.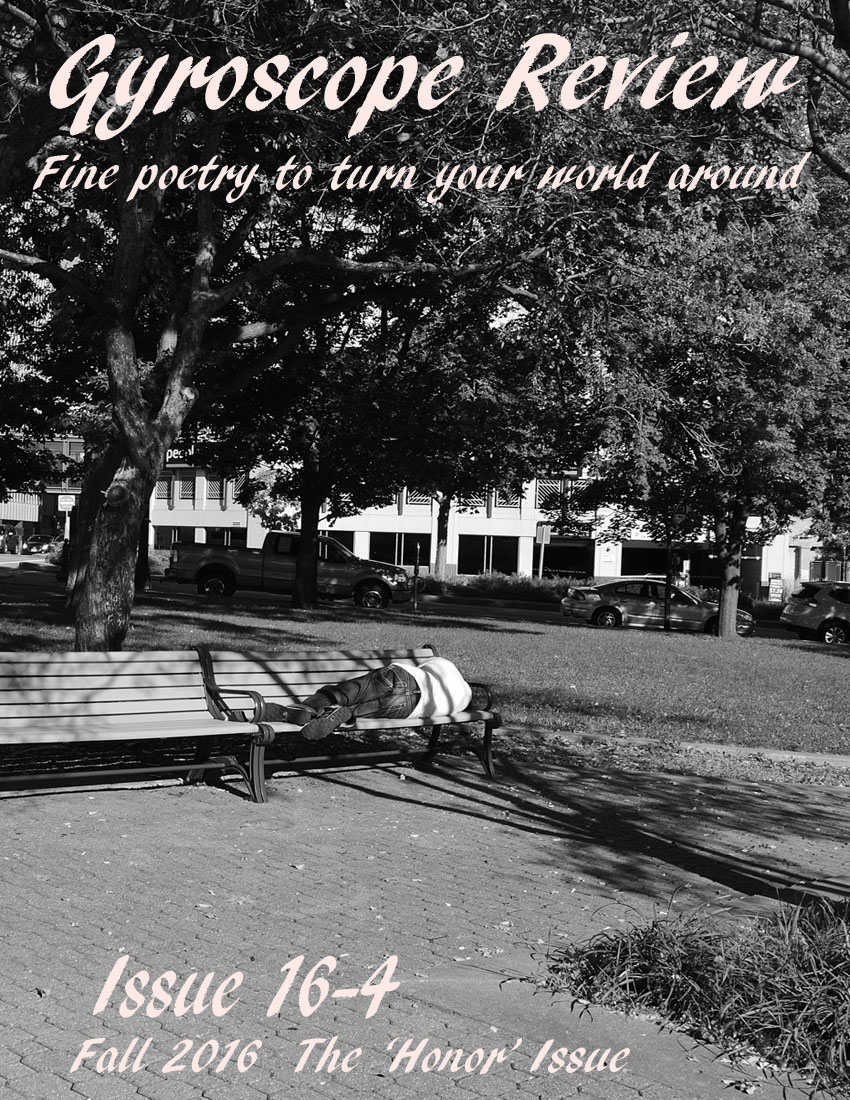 For reading on any device, please use the pdf file, available here: ISSUE 16-4
Thank you to all the wonderful poets who sent us work for this issue. We are delighted to give your work a home.