Monthly Archives: May 2016
Book Review – Billy Collins "Ballistics"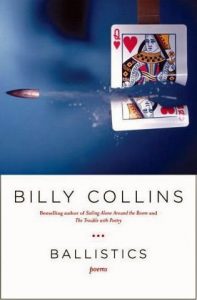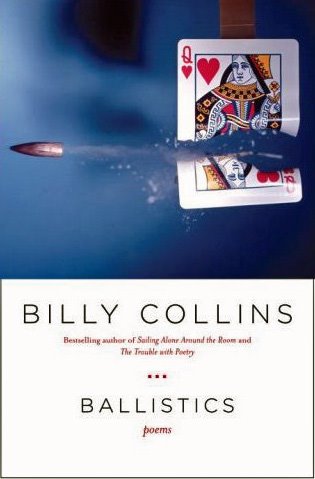 Ballistics
by Billy Collins
Random House 2008
ISBN: 978-1-4000-6491-5
An interesting book of poetry from former poet laureate Billy Collins (2001-2003) is titled "Ballistics", perhaps as a warning to the reader that a careful analysis is in order. Wikipedia defines ballistics as "the science of mechanics that deals with the motion, behavior, and effects of projectiles". Collins throws a lot at the reader in terms of history, poetics, and profound ideas disguised under subtle word play, continuing the precedent he set in a previous volume, The Trouble With Poetry. The poems in Ballistics are deeper, more introspective, and in need of repeat readings to grab all the nuances not obvious at a first read through.
The sly humor of previous volumes is still present, just not as 'in your face'. It's a testament to Collins' growth as a poet that he feels free to engage the reader with a more intellectual style of humor, one that counts on background and experience to carry the twists. Collins' work, is as always, readily accessible -which makes those that believe good poetry should be pretentious – uncomfortable, to say the least. How dare this guy recount experiences that we all can understand and share in? Isn't good poetry supposed to be as dense as Aunt Mary's Christmas fruitcake?
An interesting undertone permeates the poems in Ballistics. Although many run over 40 lines, there is a very 'haiku' like quality to the work. After carefully setting the scene and leading the reader in one direction, Collins takes pleasure in offering up an 'aha' moment that is startling in its clarity.
In 'Aubade', the reader wonders along with Collins why he is up at 5:00am, sitting on the edge of the bed. The reason, in the last stanza, is profound in its simplicity, and makes perfect sense in the grand scheme of things.
In the poem 'Ballistics', the underlying tone of dark humor is helped along by Collins' self-deprecating style. When he twists the knife into the hapless hero of the poem, you can't help but feel a guilty rush of glee.
In 'New Year's Day', it's Collins' wonderful touch with description that carries the day.
"as I lowered a tin diving bell of tea leaves into a little body of roiling water'
and
'an X in a square on some kitchen calendar of the future'.
In 'On The Death Of A Next-Door Neighbor', we get yet another take on Collins' personification of death. Just like all Collins' poems where Death is a character, we find out Death is not someone to be feared, but a regular Joe with a job to do. It might not be the type of employment Death wanted, but if he's going to do a job, he's going to do it well.
It's no big secret – I'm a fan of Billy Collins, even more so now that I watch how his poetry evolves. It's a risk to move beyond what you know people like and will buy, to something that embraces growth, not only for yourself, but for your readers as well. Ballistics is recommended, not just for fans of Billy Collins, but for those who want to carry a poem around in their head for days after and wonder, "Why have I never seen things this way before?".
This is what we are looking for in submissions to Gyroscope Review. We want to see poems that go beyond the ordinary, that dig deep and serve up an offering that's different, unique, or just plain out there. Surprise us, delight us, disgust us, but move us somehow. Study Collins, study other poets you admire and see how they deftly handle language, imagery, and imagination. Be subtle, be outrageous, but above all, be you. We want to hear your voice, shouting down a thunderstorm.
Mothers. Everyone has one somewhere. So we hope you celebrate yours, or celebrate you if you are a mother, this Sunday.
And here, for your poetry pleasure, is a sampling of some of the poems we've published that offer pieces of what mothers do, feel, long for, and mean. None of these are traditional celebrations of motherhood, but they do dig beneath the idealized vision we are used to. We invite you to have a look once the Mother's Day celebrations are over, when you have a quiet moment or two.
Crooked Pinkies by Laurie Kolp, Gyroscope Review issue 15-1, page 23.
Now We Will Speak in Flowers by Micki Blenkush, Gyroscope Review issue 15-1, page 25.
A Poem About Maria Theresa by James Graham, Gyroscope Review issue 15-1, page 27.
Chorus by Terry Jude Miller, Gyroscope Review issue 15-1, page 37.
Fried Bread by Patricia Frolander, Gyroscope Review issue 15-2, page 26.
The Starving Wind by Steve Klepetar, Gyroscope Review issue 15-3, page 7.
Long Lost by Oonah V Joslin, Gyroscope Review issue 15-3, page 22.
Never Forget Why Your Wrist Throbs by Alexis Rhone Fancher, Gyroscope Review issue 16-1, page 26.
Olive Oil by Julianne DiNenna, Gyroscope Review issue 16-1, page 39.
When You Think You're Ready to Pack Up Your Grief by Alexis Rhone Fancher, Gyroscope Review issue 16-1, page 40.
Dead Line by Claire Scott, Gyroscope Review issue 16-2, page 15.
My Sister Tells Me by Kathleen McClung, Gyroscope Review issue 16-2, page 17.
Ten O'Clock, The Day Already Threatening by Kari Gunter-Seymour, Gyroscope Review issue 16-2, page 20.